The Word Upon Your Heart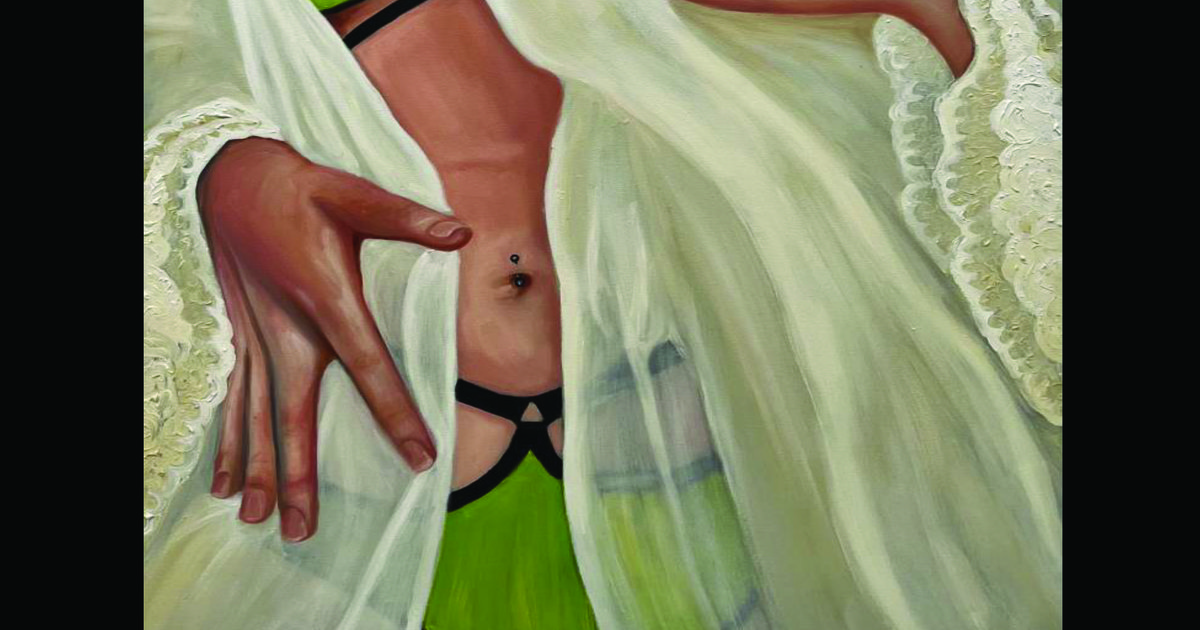 The new Biblio Gallery exhibit on the 4th floor of Bird Library features "The Word Upon Your Heart" by Emma Schwartz, on display from July 28 through August 28, 2023.
Emma Schwartz is originally from Lincoln, Nebraska. In 2022 she received her BFA in Drawing and Illustration from Herron School of Art + Design in Indianapolis, Indiana and will be a Second Year MFA Studio Art Candidate at Syracuse University. She had her first solo exhibition at Storage Space Gallery in Indianapolis and has had her work featured in group exhibitions at the Indianapolis Art Center, Governors Island, Lost Dog Gallery, Hoy Polloy Art Gallery, and Garfield Park Arts Center and in publications such as Genesis: Literary & Art Magazine, Polemical Zine, and New Visionary Magazine.
Her work depicts intimate moments within an ambiguous context of sexuality with the self and a partner, highlighting how indoctrinated sexual shame is something that must be opposed on an inter/intrapersonal level. These indeterminate instances welcome objectivity of the body, one where sexualization is promoted. She treats her paintings as entities that reinforce her promotion of self-deciding objectification and welcomes the viewer to see them that way too. Rather than ridiculing viewers for sexualizing her body, she takes control of the narrative by pushing back against rigid ever-present frameworks of puritanical authority, freeing the body from constraints.
For more information about the Biblio Gallery, contact S. Ann Skiold, MFA, MLIS, Visual Arts and Language Librarian at Syracuse University Libraries or apply to submit an exhibit via Biblio Gallery exhibition form.