Tom MacDougall '92 Donates Platinum Records to Syracuse University Libraries' Special Collections Research Center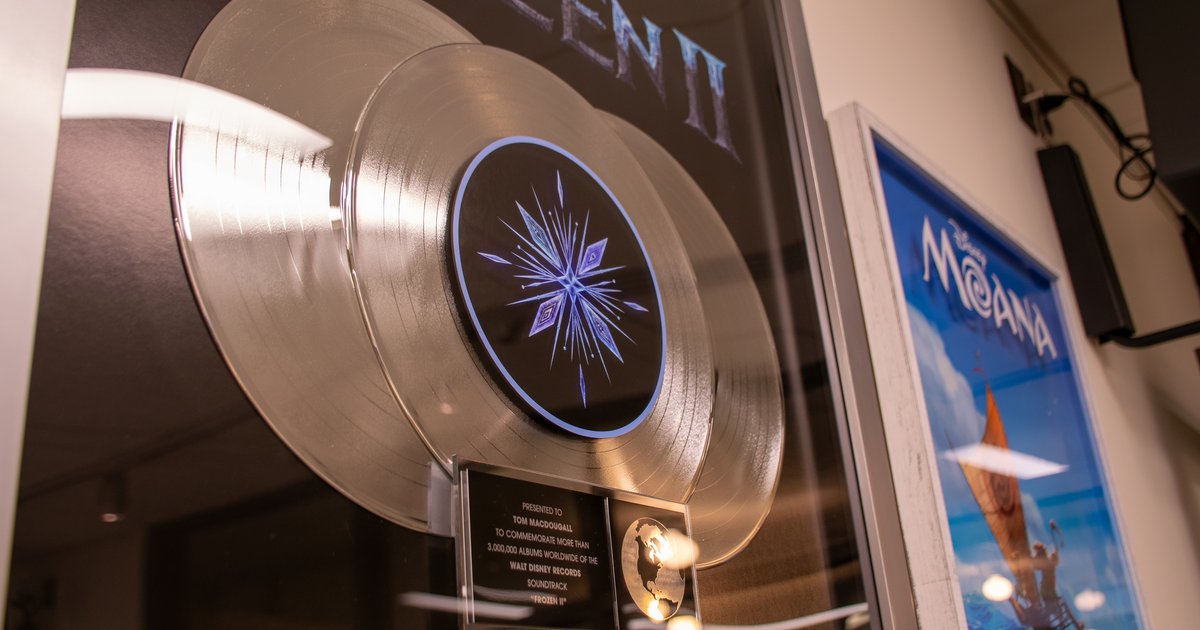 Tom MacDougall '92 (Martin J. Whitman School of Management) P'25 donated platinum records from the Disney films Frozen II and Moana to Syracuse University Libraries' Special Collections Research Center, with the awards commemorating the multi-million selling soundtracks. MacDougall, an alumnus and parent of a Syracuse University student, won Grammy® awards for producing the soundtracks to Disney's Frozen and Encanto. He is currently president of Walt Disney Music and has been with the company since 1993.
"To receive these special pieces of pop culture history dear to millions of Disney fans around the world is truly humbling, and I am deeply grateful to Tom for entrusting these honors to Syracuse University," said Chancellor Kent Syverud. "They will be cherished and proudly displayed in the Belfer Audio Archive, part of the Special Collections Research Center."
"These are the University's first platinum records," said David Seaman, University Librarian and Dean of Syracuse University Libraries. "It is a fantastic accompaniment to the Oscar that is in Special Collections, for the music from Ben Hur composed by Miklos Rozsa, whose collection we have."
The platinum records are on display in the Belfer classroom and will be viewable to the many students who visit the classroom as part of SCRC's instruction program or VPA's Music Industry program.
About Special Collections Research Center (SCRC) and Syracuse University Libraries:
Syracuse University Libraries' Special Collections Research Center collects, preserves and provides access to materials that document the history of Syracuse University and our global society, including rare printed materials, original manuscripts, photographs, artworks, audio and moving image recordings, University records and more. Collection areas include activism and social reform, radicalism in the arts, architecture and industrial design, photography, the history of recorded sound and more. Located on the 6th floor of Bird Library, the SCRC is a vibrant research and learning environment for Syracuse University students, faculty and the broader scholarly community, providing access to world-renowned rare and archival collections and expert guidance in their use to facilitate personal discovery and the creation of new knowledge.