Tree-Spun Wins 2023 Hult Prize Competition Qualifier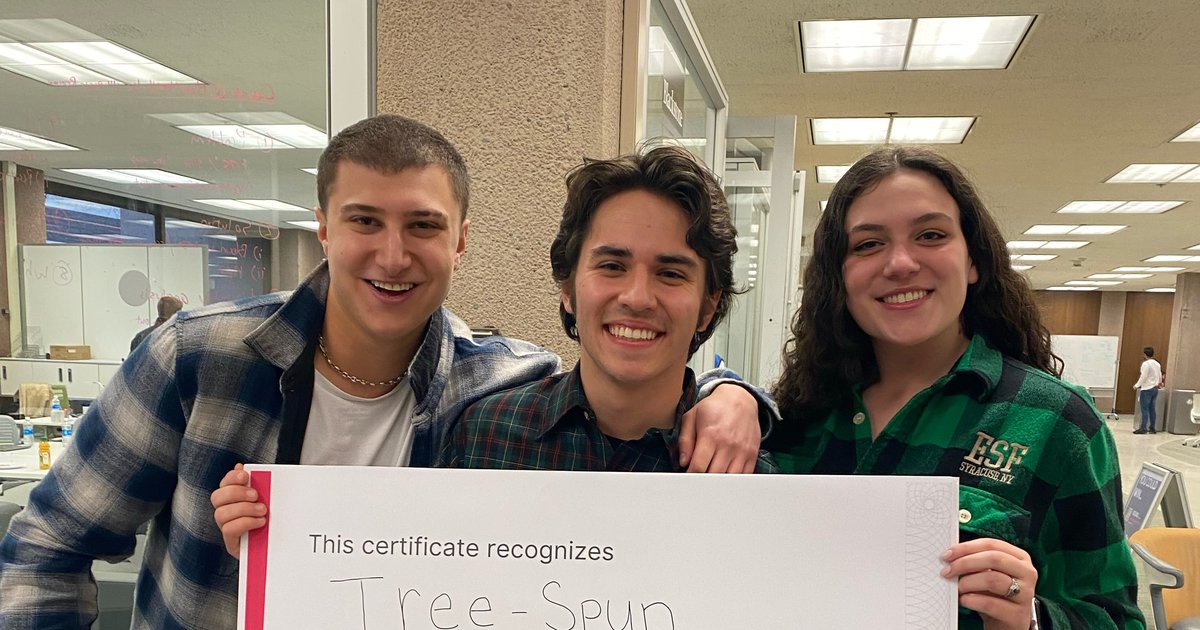 Rob Goldblatt '23 (Martin J. Whitman School of Management), co-founder of Tree-Spun, and his teammates, Paul Sausville and Nicole Byrnes (SUNY-ESF), are winners of the 2023 Syracuse University Libraries' Blackstone LaunchPad Hult Prize campus qualifier competition. The competition was held at the LaunchPad in Bird Library on Friday, February 17. The Hult Prize is a prestigious global business competition started by a partnership between the Hult Business School and the United Nations Foundation. The competition challenges students to present products, services, technologies, and other solutions to societal problems. This year's challenge is Redesigning Fashion, which asks student teams to pitch a for-profit business venture in the fashion/clothing industry that positively impacts people and the planet. Rabia Razzaq '23 (College of Visual and Performing Arts), founder of Re-mend, and Sahitya Sampath '25 (Martin J. Whitman School of Management), founder of Block Threads, were runners-up.
Winners of the campus competition will advance to a regional competition for a chance to compete with international student teams for the opportunity to work with world class mentors and pitch at the United Nations for $1 million in investment. Past Syracuse winners have gone on to compete in Toronto, Boston, and San Francisco.
This year's Hult Prize Competition qualifier was organized by Alesandra (Sasha) Temerte '23 (College of Arts and Sciences and Maxwell School of Citizenship and Public Affairs), LaunchPad Global Fellow.
About the Blackstone LaunchPad at Syracuse University Libraries:
The Blackstone LaunchPad at Syracuse University Libraries is the University's innovation hub, connecting the entire campus resource-rich ecosystem with a global network that provides support for aspiring entrepreneurs, inventors, and creators. The program serves faculty, staff, students, and alumni across disciplines who are interested in innovation, invention, entrepreneurship, venture creation, careers, entrepreneurial skills, diversity, equity, inclusion, and taking ideas from concept to commercialization. The program supports a key pillar of Syracuse University's Academic Strategic Plan to create an innovation ecosystem across the institution that prepares participants to be trailblazers in an entrepreneurial world.