Visit our Patio Cafés during SU Welcome 2018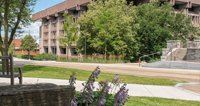 Stop by the Pages Patio Café at Bird Library for complimentary refreshments, à la carte snacks and beverages, or just a place to sit and relax under the tent or inside our air-conditioned building. Library tours and information will be available.
Wednesday, August 22, noon to 4 p.m.
Thursday, August 23, 9 a.m. to 4 p.m.
University Place Patio, Bird Library
Carnegie Library, located in the Carnegie Building on the south side of the Quad, will also be serving complimentary refreshments outside on their porch, along with tours of its beautifully renovated Reading Room.
Brought to you by the SU Libraries, the Parents Office, and SU Food Services.