Disappearing traditional writing systems and the worldwide loss of cultural identity talk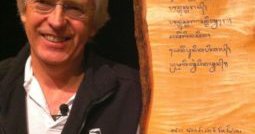 Tim Brookes, associate professor in the Division of Communication and Creative Media at Champlain College, will give the talk, Where Have All the Alphabets Gone? on Friday, November 3, 2017, 10:00–11:30 a.m. in the Peter Graham Scholarly Commons, 114 Bird Library. His lecture is part of the Syracuse Symposium series on Belonging.
Brookes, founder of the Endangered Alphabets Project, uses art to draw attention to imperiled languages and cultures, creating wood carvings that display the beautiful scripts of languages falling into disuse and on the verge of extinction. He will address questions of how a culture's writing system reflects its sense of value and belonging, why cultures around the world are losing their traditional scripts, and what else is being lost in the process. An exhibit of his artwork will be on display on the first floor of Bird Library for the week prior to his talk.
More information on the Endangered Alphabets Project can be found at endangeredalphabets.com.
This event is jointly sponsored by the University Libraries, the Humanities Center, the College of Arts & Sciences, the Departments of Languages, Literature & Linguistics, Religion, and Writing Studies, Rhetoric, and Composition, the Department of Reading and Language Arts, the School of Education, the Maxwell School and the Indigenous Values Initiative.
Communication Access Realtime Translation (CART) will be available for this event. If you need an accommodation to be able to fully participate in this event, please contact Lydia Wasylenko at lwwasyle@syr.edu by October 27.