Wiki-a-thon: Women in Design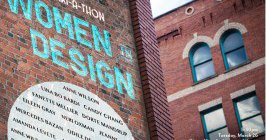 As part of a global campaign to improve Wikipedia's coverage of women in design and to increase female contributors to Wikipedia, School of Architecture Professor Lori Brown, Architecture Librarian Barbara Opar, and Fine Arts Librarian Ann Skiold will hold a Women in Design Wiki-a-thon on Tuesday, March 26, beginning at 5:30 p.m. in the King + King Architecture Library in Slocum Hall.
Participants will create, update, and improve Wikipedia articles covering the lives and works of women in design.
Students of all gender identities are welcome to participate; editorial experience is not required. Refreshments will be served.
For more information, contact Lori Brown, Barbara Opar, or Ann Skiold.