Just One Word: Plastics
Special Collections Research Center
Page featured image content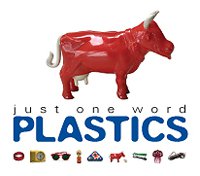 Page main body content
Bird Library
09-12-2011 to 01-20-2012
For more than a century, plastics have transformed our lives - from bathroom to battlefield; from supermarket to spacecraft. Begun as a 19th-century replacement material for billiard balls and piano keys, plastics spurred 20th century developments in industry, transportation, medicine, entertainment, and other aspects of contemporary life. The original objects of Just One Word: Plastics represent a material history of the modern world.
This exhibition features a representative sample of the Plastics Collection at the Syracuse University Libraries and presents an overview of major trends in the development of plastics in everyday life. The exhibit focuses on personal and household objects rather than the use of plastics in industry where they are also widely used. Approximately 250 objects divided into twelve categories will be on view. In addition, a small selection of manuscripts and printed materials will be included.
The Plastics Collection was begun in 2007 as a joint project of the Syracuse University Libraries and the Plastics History & Artifacts Committee of the Plastics Pioneers Association. The Collection expanded dramatically when the National Plastics Center and Museum in Leominster, Massachusetts, closed and transferred its artifacts, books, and manuscripts to Syracuse University's care in 2008.
Visit the Plastics Artifacts Collection
Read more about the Plastics Collection at the SCRC