804 University Ave.
Special Collections Research Center
Page featured image content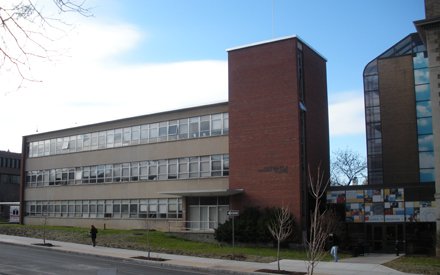 Page main body content
Construction Began: 1957
Building Occupied: December 1958
Originally Named for: Hospital of the Good Shepherd which stood next door (now Huntington Hall)
Architects: King & King, Syracuse
Construction: Dygert Construction Company, Syracuse
Cost: $681,136
Funded by: Ford Foundation grant, $95,000; Federal Hill-Burton Act funding, $190,753; New York State, $105,000; and SU general funds
Materials: brick and steel
Notes: Originally named Syracuse University Hospital of the Good Shepherd Rehabilitation Center, the purpose of the building was to house departments engaged in rehabilitation services for in-patients and out-patients, as well as University departments needed for the care and treatment of patients. Federal funding came from the Hill-Burton Act of 1949 which was designed to improve the nation's hospitals. The building replaced a wooden structure, originally the Theta Phi Alpha Sorority house, acquired by SU in the 1930s. Renovated in the 1980s and again in 2000, it became home to counseling and other student support services.