Bird Library
Special Collections Research Center
Page featured image content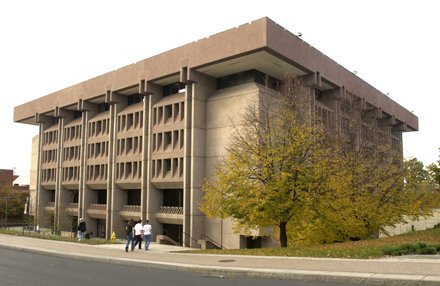 SU Photo & Imaging RS 8687
Page main body content
Ernest Stevenson Bird Library
Groundbreaking: 1969
Open to public: September 1972
Dedicated: April 6, 1973
Dedication Speaker: Dr. William P. Tolley, retired SU Chancellor
Architects: King and King Associates
Location: 222 Waverly Avenue
Cost: $13.8 million
Funding: Ernest Stevenson Bird, Class of 1916, donated $3 million; George Arents, Hon. '33, $2 million; parents of Syracuse University students, trustees of the University, and many other private donors; additionally, the Federal government contributed $3 million under Titles I and II.
Space: 212,000 square feet, 7 floors
Notes: The move of over 1 million volumes and millions more manuscripts, pamphlets, microforms, media and other items in the collection from Carnegie Library, the library annex in the Continental Can Building and branch libraries began on July 31, 1972. The move took more than one month. On August 17, 1973, the library was closed to the public while tests were conducted to determine the stress capacity of the structure. Testing was completed at the request of the State Dormitory Authority. Concrete blocks were layered on the 5th floor equal to 150 lbs. per square foot while readings were made every three hours.