Carnegie Library
Special Collections Research Center
Page featured image content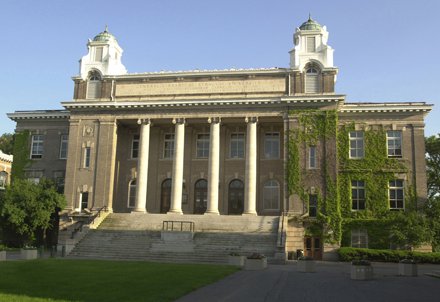 Carnegie Library, SU Photo & Imaging RS 8689
Page main body content
Groundbreaking: Spring 1905
Building Opened: September 1907
Cost: $150,000
Style: Renaissance
Architects: Professors Frederick W. Revels and Earl Hallenbeck
Materials: Granite base; gray brick and terra cotta
Renovation Completed: January 2014
Notes: In 1905 Rev. Dr. James D. Phelps secured a donation of $150,000 from Andrew Carnegie for a new university library provided the University raised an equal sum as an endowment for the library. The University raised the required endowment in little over a month with the largest share being contributed by John D. Archbold. Interestingly, once the endowment had been raised, Chancellor Day, with the consent of the donors and University trustees, used the fund's capital to finance the construction of Sims Hall, the income from which was allocated to the library.
On September 11, 1907 the transfer of the Von Ranke collection from the old library building marking the opening of the new library with a collection of over 71,000 volumes. A formal dedication was never held as the University was unable to persuade Andrew Carnegie to attend. In 1934, a statue of Diana the Huntress, created by Anna Hyatt Huntington, was donated and placed in the vestibule of the library; it was later moved to Bird Library. In 1972, with the opening of Bird Library, Carnegie was renovated to house the Engineering, Life Sciences and Mathematics libraries along with the Mathematics Department. The Chemistry library was added in 1982 and the collection was renamed the Science and Technology Library. At the building's centennial celebration in 2007, it was noted that the building was one of only two original Carnegie libraries on a college campus still being used as a library.
In summer 2011 renovations began on the building to upgrade it for contemporary use. The main reading room was renovated to allow for silent study space, library office space was relocated to the 2nd floor, and a computer room and new security system were added. For the first time since the mid-1970s, the main entrance to the library was once again through the front stairs and doors.