Center for Science and Technology
Special Collections Research Center
Page featured image content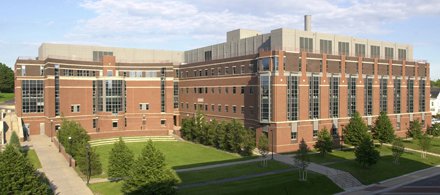 Center for Science and Technology, SU Photo & Imaging RS 8826
Page main body content
Construction Began: June 1987
Occupied: 1988
Dedicated: March 2, 1989
Dedication Speaker: New York State Lieutenant Governor Stan Lundine
Construction Managers: Huber, Hunt, and Nichols of Indianapolis, IN
Architect: Kling and Lindquist Partnership of Philadelphia, PA; Koetter, Kim and Associates of Boston, MA worked as part of the design team; Skoler and Lee of Syracuse, assisted with architectural production of the building
Style: Façade facing College Place built with curved main entrance, mix of smooth red brick and glass and small courtyard to match other traditional-style building then on street; Comstock Avenue façade kept simple to blend with fraternity houses and residence cottages existing at the time.
Location: Faces onto College Place
Cost: $59 million
Funding: New York State Urban Development Corporation - $5 million grant and $27 million interest-free loan
Materials: Brick walls, bronze glass windows, lobby ceiling of Douglas fir over slate floors and decorative trees.
Space: 200,000 square feet
Notes: A special feature at the time the building was built was a ventilation system to purify the air as it was drawn out of the chemistry labs. When Life Sciences Complex was completed in 2008, an atrium was added to connect the two buildings.