Childcare Center, M-0 and M-1 Skytop
Special Collections Research Center
Page featured image content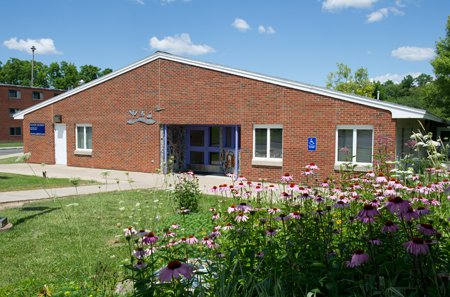 Page main body content
Original Renovation Began: 1969
Funding for 1969 renovation: Grant for "Responsive Care Model"
Contractor for 1986 addition and renovation: Haynor-Hoyt Corp., Syracuse
Cost for 1986 project: $279,000 - including renovations to M-17
Materials: Brick-faced steel and wood framing
Location: Lambreth Lane, South Campus
Space: Over 3,000 square feet; two single-story buildings connected by a walkway
Notes: M-0 is a World War II surplus pre-fabricated steel housing unit, one of 300 that arrived on campus in May 1946 to create housing and classrooms for veterans attending SU. M-0 and M-1 were renovated in 1969 to turn the GI Bulge-era buildings into a child care center with classrooms, dining, napping and outdoor play areas. The original M-1 building, also a pre-fabricated unit, was demolished in 1986 and then rebuilt as part of a renovation project that included an addition to M-0 and renovations to M-17.