Eggers Hall
Special Collections Research Center
Page featured image content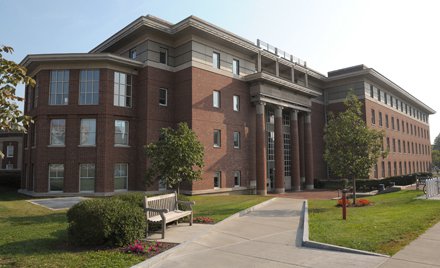 Eggers Hall, SU Photo & Imaging RS 8574
Page main body content
Plans Announced: September 1991
Groundbreaking: May 9, 1992
Occupied: December 28, 1993
Open House: January 10, 1994
First Classes Held: January 11, 1994
Named for: Chancellor and former economics professor Dr. Melvin A. Eggers
Dedication: October 6 & 7, 1994
Architect: Bohlin, Cywinski, and Jackson
Contractor: Hueber Breuer, Inc.
Cost: $20 million
Funding: Part of 5-year, $50 million fund-raising campaign
Location: Crouse Drive, adjacent to Maxwell Hall
Space: 84,000 square feet
Notes: The six story building is linked to Maxwell Hall by a three-tiered atrium. When built, it housed the departments of the Maxwell School, including history, economics, political science and geography. Included were a public events room, a 100-seat lecture hall, administrative and faculty offices, offices for a number of Maxwell School programs and a café. Themed seminar rooms such as the American Experiment Seminar Room honored the Seneca Falls Women's Movement, while the People of the Longhouse Seminar Room held banks of chairs against the walls and an open center space inspired by Onondaga Nation council meetings.