Maxwell Hall
Special Collections Research Center
Page featured image content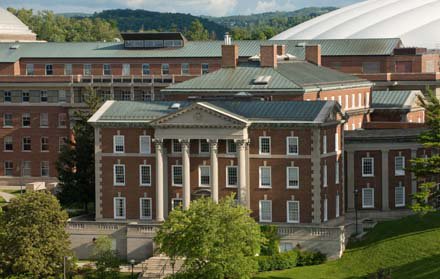 Maxwell Hall, SU Photo & Imaging RS 8879
Page main body content
Maxwell Hall of Citizenship and Public Affairs
Ground Broken: July 20, 1936
Dedicated: November 12, 1937
Dedication Speakers: Herbert Hoover, former President of the United States; Charles A. Beard, historian; and Clarence A. Dykstra, president of University of Wisconsin
Named for: George Holmes Maxwell
Building Occupied: October 1937
Cost: $544,250 - included architect's fees, landscaping, equipment for the building, fire insurance, etc.; actual fee paid to contractors was $430,095
Funded: $500,000 grant from North American Holding Company, established by George Holmes Maxwell
1994 Renovation: $5 million
Architects: James Dwight Baum and John Russell Pope
Contractors: Hueber Brothers
Materials: Georgian Colonial brick
Location: Crouse Drive, adjacent to Eggers Hall
Notes: George Holmes Maxwell, class of 1888 and member of the Board of Trustees, was a successful Boston patent attorney, financier, inventor, and shoe manufacturer who believed the best way to promote "intelligent patriotism" in future generations would be to create a fund of $500,000 for SU to establish a "School of American Citizenship." In December 1928 Maxwell made an agreement with Chancellor Charles Flint and Dr. Frederick Davenport to erect a citizenship building. The directors of the North American Holding Corporation (NAHC), of which George Maxwell was president, ratified the agreement in June 1929. Although no news of the gift was made to the public according to Maxwell's wishes, news reached the press in October of 1930 and the information was sent out over the national news service, much to Maxwell's chagrin.
In September 1930 the University entered into an agreement with architects Pope and Baum to prepare preliminary studies, drawing and specifications. After being modified and changed several times the agreement was approved in June 1931. As evidenced by correspondence housed in the University Archives, Maxwell was very involved in determining the location and style of the building.
Due to the Depression the construction of the building was postponed several times, then indefinitely. Market securities held by the NAHC had steeply declined in value. In September 1932 George Maxwell passed away.
Finally in the spring of 1936 the directors of NAHC informed the University that they were ready to precede with the erection of the building. At the building's dedication in 1937, Levi S. Chapman, Vice President and director of NAHC and a member of the Class of 1888, presented Maxwell Hall to SU on behalf of the company.
George Maxwell had approved the building plans prior to his death. Maxwell Hall was built in the colonial style to conform to the 50-year plan building development program outlined for SU by Pope and Baum in 1927. Ionic columns, dark terrazzo flooring, a replica of Houdon's life-size figure of George Washington, and an inscription on the wall of the Athenian "Oath of Citizenship" distinguish the 40 x 70-foot foyer. There are two original main entrances, one facing north and the other facing east. Maxwell Auditorium, a deeply sunken 200-seat semi-circular forum is at the core of Maxwell Hall.
In the 1990s faced with a need for more space the Maxwell School undertook a renovation of Maxwell Hall, which was completed in 1994. In addition, Eggers Hall, was built/completed in 1993 and links to Maxwell Hall via a public atrium.