Ernie Davis Hall
Special Collections Research Center
Page featured image content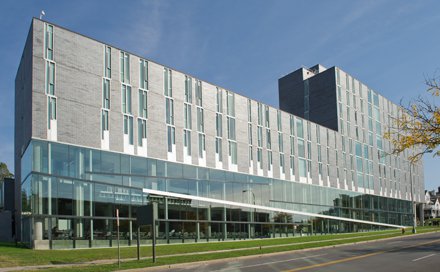 Ernie Davis Hall, SU Photo & Imaging RS 56076
Page main body content
Construction Began: February 18, 2008
Dedicated: October 2, 2009
Dedication Speakers: Don McPherson, class of 1987, All-American college football selection; Chancellor Nancy Cantor; Suzanne Kim Chafetz, class of 2013, resident of Ernie Davis Hall.
Building Occupied: August 2009
Named for: Ernie Davis, class of 1962; two-time All-American college football selection and first African American to win Heisman Trophy (1961)
Cost: $50 million
Funding: New York State provided $5 million through Higher Education Capital Matching Grant Program
Architects: Mack Scogin Merrill Elam
Construction Managers: JD Taylor Construction Corporation
Style: Modernism
Location: 619 Comstock Avenue, adjacent to DellPlain Hall
Space: At the time of its construction the 140,000 square foot, nine-story structure housed 250 students with lounges and laundry facilities on each floor, a 500-seat dining hall, a 10,600 square-foot recreation facility and 2,000 square feet of academic space.
Notes: Ernie Davis Hall is the University's first "green" residence hall, constructed to meet the standards of the Leadership in Energy and Environmental Design (LEED) Green Building Rating System, a global standard of sustainable green building and development practices. It was constructed with such features as low water-use fixtures, a storm-water management system, advanced materials requiring less energy to cool, and dining hall efficiencies to reduce food waste and hot-water consumption.