Goldstein Alumni and Faculty Center
Special Collections Research Center
Page featured image content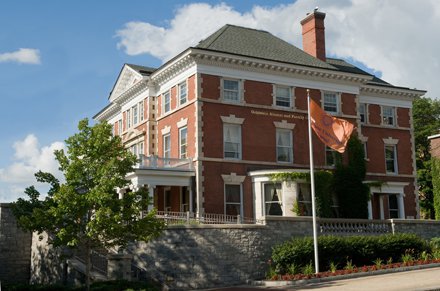 Goldstein Alumni and Faculty Center, SU Photo & Imaging RS 8878
Page main body content
Constructed: 1903
Architects: Edwin H. Gaggin, Class of 1892, and T. Walker Gaggin, Class of 1895
Style: Modified Federal
Materials: Red Akron brick; trim, sill courses, and bay window of white Vermont marble; foundation of Onondaga limestone
Space: Central hall wainscoted in dark oak, with oak beam ceiling
Location: 401 University Place; formerly faced Walnut Avenue until Bird Library's construction cut off part of Walnut Ave. caused change in building access
Purchased by University: January 1974
Cost: $100,000
Faculty Center Opened: November 4, 1974
Groundbreaking for Addition: June 1, 1996
Addition Space: 5,700 square feet
Architects for Addition and Building Renovations: Alfiere-McIndoe Architectural Services, Inc., Syracuse
Cost of Addition and Renovations: $2,103,988
Dedicated as Goldstein Alumni and Faculty Center: October 31, 1997
Named For: Alfred R. and Ann Lubin Goldstein, Class of 1948
Notes: Built by the Delta Kappa Epsilon Fraternity as a chapter house, the house was opened for the first time at the annual banquet of the Central New York Association of Delta Kappa Epsilon on June 9, 1903. In 1974 Syracuse University bought the house when the chapter moved to Comstock Avenue. After remodeling, the new Faculty Center opened with accommodations for meetings, lunch or informal relaxation.
In spring of 1996 plans for the Goldstein Alumni and Faculty Center were announced. The center ceased operations in December 1996 and reopened in August 1997 as a renovated and expanded facility including the new home of the Office of Alumni Relations. The modernized interior brought the building up to current codes while preserving the building's original character. Renovations included a brick patio to enhance the front porch.
In 2022, the building became a visitors' center where the Office of Admissions resides.