Henry Health Center
Special Collections Research Center
Page featured image content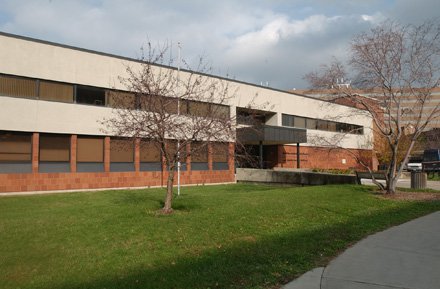 Henry Health Center, SU Photo & Imaging Photos RS 17561
Page main body content
Ruth Van Arsdale Henry Center and Health Services Building
Construction Contract Signed: June 1971
Opened: August 1972
Dedication: October 20, 1972
Dedication Speaker: Lewis W. Bluemle, Jr., M.D., president of SUNY Upstate Medical Center
Named for: Ruth Van Arsdale Henry, Class of 1919
Architects: King & King Architects, Syracuse
Contractor: Samuel Kosoff and Sons, Syracuse
Cost: $1.3 million
Expanded: 1986
Funded by: Reverend Leland B. Henry gave securities valued at about $350,000. Other major contributors included Syracuse Medical Alumni Association ($50,000); Good Shepherd Alumnae Association of Nurses ($45,000); Baird Foundation ($50,000); Marine Midland Bank-Central ($69,000); and other banks, business firms, individuals and small foundations. The Syracuse University Parents Association, including more than 6,000 parents, contributed in excess of $600,000. The rest of the cost was financed by the University through a grant from the U.S. Department of Health, Education and Welfare.
Notes: Henry Health Center was built on the site of the old infirmary and health services building on Waverly Avenue and was connected with existing health facilities at 804 University Ave. At completion, it had space for 28 beds, a small kitchen, a dining room, an examining room, outpatient facilities, records, a small lounge-library-chapel and a reception area. The infirmary was named after the first wife of the late Reverend Leland B. Henry, a 1918 graduate of the University and an Episcopal clergyman. His first wife, Ruth Van Arsdale Henry, who died in 1947, was a 1919 graduate. He married a close friend of his first wife, Beatrice M. Kutzleb, in 1950. It was the suggestion of the second Mrs. Henry that Reverend Henry ask the University to name the infirmary for his first wife. Reverend Henry died Aug. 31, 1968, prior to the building's completion.
In 1986 the building was renovated and a second story was added.