Heroy Geology Laboratory
Special Collections Research Center
Page featured image content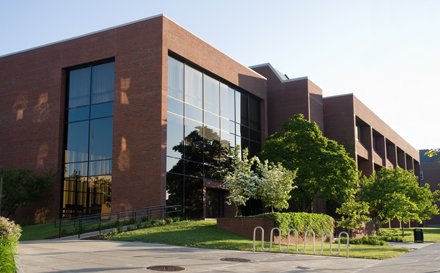 Heroy Geology Laboratory, SU Photo & Imaging RS 8918
Page main body content
Opened: February 3, 1972
Dedicated: October 12-14, 1972
Named for: William B. Heroy, Class of 1909, petroleum geologist and director of Institute for the Study of Earth and Man at Southern Methodist University
Cost: $2.9 million
Funding: Heroy donated stocks worth $1 million, which subsequently doubled in value; also endowed a chair in geology in memory of his first wife, Jessie Page Heroy
Space: 67,000 sq. ft.
Contractor: Arkay Construction Corp.
Materials: Brick walls, bronze glass windows, lobby ceiling of Douglas fir, slate floors
Architect: King & King, Syracuse
Location: North of Carrier Dome, east of White Hall
Renovation: Begun November 2010
Notes: When built, most of the space in Heroy was used for laboratories, offices, storage rooms, and a 200-seat, oak-ceiling lecture hall. The interior was designed with geologic themes in colors and materials. The glass enclosed staircase from the lobby to the fourth floor served as a green house for trees. The design included removable ceilings allowing access to water, gas and electrical services. The first floor housed laboratories, each with an acid drainage system that emptied chemicals into a neutralizing pit in the basement, and fume systems for removing noxious gases used in experiments. The ground floor housed a wet tank for water wave experiments.
By 2010, new research equipment requiring significant upgrades in electrical power, water, and drainage and cooling systems had taxed the building's utilities. To make better use of teaching, laboratory and storage space, a multi-year renovation project began.