White Hall
Special Collections Research Center
Page featured image content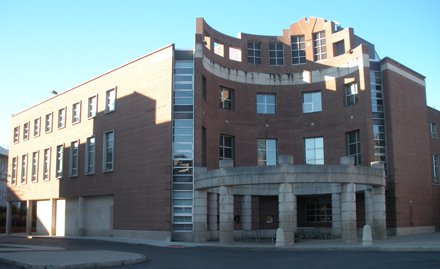 Page main body content
Groundbreaking: June 15, 1953
Occupied: September 20, 1954
Dedicated: December 11, 1954
Named for: Ernest I. White, lawyer and president of Post-Standard, who donated $424,000 to Building Fund
Funding: 1947 Building Fund
Contractor: W.J. Burns Company
Cost: $922,000
Architect: Begun by Lorimer Rich and Associates, completed by King & King
Materials: Reinforced concrete with brick facing and limestone trim
Location: North of Carrier Dome, west of Heroy Geology Building, and south of Crouse College
Renovations: 1983-1985, 1997, 2014
Notes: White Hall was the ninth building completed in Syracuse University's $15 million postwar construction program. The College of Law, since its inception having moved to five different locations around the city of Syracuse, at last had a home on campus. When completed, the building held a library, classrooms, faculty and administrative offices, lounges and practice court rooms. As White Hall is situated on a hill it has two levels: the west side has four stories and the east has three.
The Arnold M. Grant Auditorium was added in 1966. It is attached to the southern end of White Hall.
The 1983-1985 renovation of White Hall added the Barclay Law Library to the northeast side of the structure. Named for H. Douglas Barclay, SU Law Class of 1961, NY State Senator and SU trustee, the addition provided for new administrative and faculty offices, upgraded classrooms, a student lounge area and more computer space. Constructed of red brick with limestone trim, it was designed by Bohlin Powell Larkin Cywinski Architects, with Hueber-Breuer Construction as contractor. The $4.5 million construction and refurbishment effort culminated, on March 22, 1985, in a rededication ceremony for the improved White Hall.
A 1997 expansion project included renovations to White Hall as part of the $12.5 million budget when MacNaughton Hall was added to the north.
In 2014 the Law Library moved to the new Dineen Hall and the space was allocated to other University purposes.