Hospital of Good Shepherd
Special Collections Research Center
Page featured image content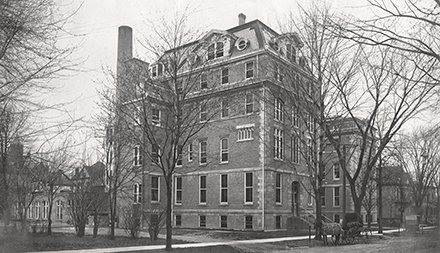 Hospital of the Good Shepherd, Image 15-0461
Page main body content
Constructed: Original wooden building 1875 (demolished); brick additions in 1887 and 1902
Cost: $20,000
Acquired: 1915
Materials: Brick and stone
Renovated and Expanded: 1916 and 1918
Location: Marshall Street at University Avenue
Renamed: 1964
Notes: Founded in 1873 by Bishop Huntington and the Episcopal Diocese of Central New York for the temporary nursing and care of the needy, a three-story hospital was built on Marshall Street between University Avenue and Chestnut Street in 1875. The institution continued to expand. Brick and stone additions were made to the original building which was eventually demolished and replaced with a brick edifice. Due to financial difficulties, the hospital was transferred to Syracuse University in 1915.
In 1916, the hospital was enlarged by raising the center roof, providing for additional patient rooms. In the summer of 1918 a new pavilion was constructed for maternity cases and the care of children. In the years immediately following World War I, older portions of the hospital were also renovated. Expenses for these improvements were paid for with private donations, including a gift from the estate of Dr. Henry L. Elsner, a former member of the Medical College, and Mrs. Russell Sage. Although the Medical College was transferred to the State of New York in 1950, SU retained the hospital building and operated it on a contractual basis until 1966 when it ceased operation as a hospital.
In 1964 the building was re-named Huntington Hall. From 1958 to 1964, the name "Hospital of the Good Shepherd" was also applied to 804 University Avenue when it housed the Rehabilitation Center.