Machinery Hall
Special Collections Research Center
Page featured image content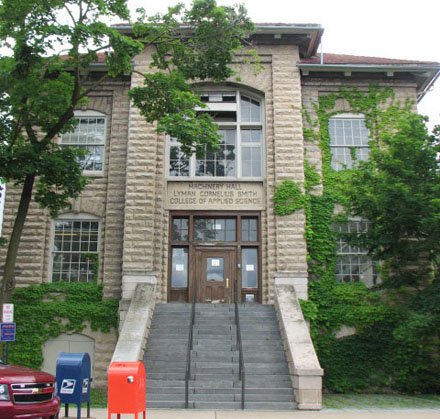 Page main body content
Ground Broken: September 26, 1904
Dedicated: 1904; rededicated: 1984
Building Occupied: February 1907
Cost: $400,000
Cost of 1970 renovation: $1.25 million
Funding: Donation from Lyman C. Smith. After his death in 1910, his widow and son donated a well-equipped hydraulic laboratory in his memory.
Architects: Edwin H. Gaggin of Gaggin and Gaggin, Syracuse
Materials: Reinforced concrete, steel, rocky stone facing and tile roofing
Contractors: James Murtagh
Location: East of Hinds Hall, Southeast of L.C. Smith Hall, on Main Campus
Notes: The second engineering building in the College of Applied Science to be gifted to the University by L.C. Smith, the building originally housed metal and woodworking equipment, blacksmithing forges and anvils, a cement mill, mining machinery and other laboratory appliances. The hydraulic laboratory, designed by Professor Paul Nugent, cement-testing machinery, forges, and a foundry occupied the first floor. The next floor was occupied by metal machinery and the upper floor was devoted to woodworking machinery. In 1948, the College of Applied Science moved to the Thompson Road campus and the building served as classrooms. In 1950, the second floor was used for SU Drama and the Boar's Head Theatre. The following year it was used as the University ROTC headquarters where it remained until 1963. The rear portion of the building was razed in 1953 to make room for the construction of Link Hall. In 1964, the Computing Center made Machinery Hall the center of operations. On December 7, 1984, the building was rededicated as the home of the Office of Academic Computing Services.