Newhouse Communications Center II
Special Collections Research Center
Page featured image content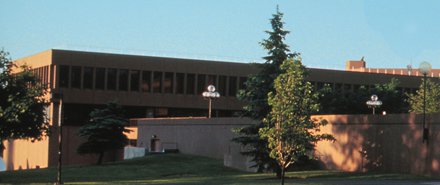 Newhouse II, SU Photo & Imaging Photos RS 8813
Page main body content
Construction Began: Summer 1971
Dedicated: May 31, 1974
Dedication Speaker: William S. Paley, Chairman of the Board, CBS Inc.
Pre-Dedication Dinner Speaker: David Brinkley, newscaster and author
Named For: Samuel I. Newhouse
Cost: Approximately $7.5 million
Funding: Samuel I. Newhouse donated $15 million for construction of 3-building communications center
Architects: Skidmore, Owens and Merrill
Space: 72,000 square feet
Location: 215 University Place
Renovated: 2007 as part of building fund for Newhouse III
Renovated: 2014 with addition of Newhouse Studio and Innovation Center
Renovation Cost: $18 million
Notes: Newhouse II is devoted to broadcast and film, including television and radio. The first two floors of the structure are devoted to television. There are two television studios, a scene shop and storage areas. On the third floor are faculty offices, a 100 seat theater and a broadcast news laboratory.
A major renovation of Newhouse II culminated in 2014 with the dedication of the Newhouse Studio and Innovation Center which features the Dick Clark Studios and the Alan Gerry Center for Media Innovation. Speakers at the dedication on September 29, 2014 included Oprah Winfrey and Kari Clark, widow of Dick Clark '51.