Yates Castle (Renwick Castle)
Special Collections Research Center
Page featured image content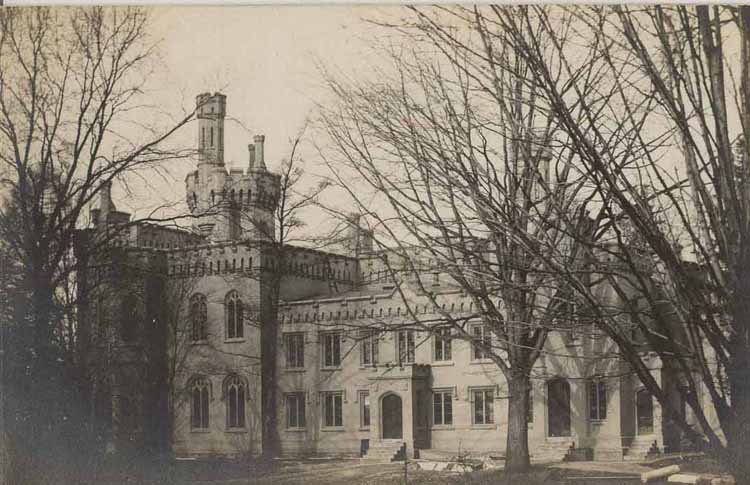 Page main body content
Constructed: 1852-1855
Occupied by Syracuse Classical School: 1900-1906
Purchased by Syracuse University: November 6, 1905
Occupied by Slocum Teachers College: 1906
Occupied by School of Journalism: 1934
Vacated by School of Journalism: September 1953
Demolished to Make Room for Expansion of SUNY Upstate Medical School: April 12, 1954
Architects: James B. Renwick, architect of Vassar College, St. Patrick's Cathedral in New York City and Smithsonian Institute
Builders: C.T. Longstreet. Later sold to Alonzo C. Yates
Cost: $70,000.00
Style: Late Gothic or Tudor
Notes: Construction of the 24-room replica of a Norman castle was begun in 1851 for Cornelius T. Longstreet. In 1867, because of its remoteness from the city's social center, Longstreet traded the castle for Alonzo Yates' James Street house and $30,000. The Yates family occupied the castle until 1898, after which it was vacant for two years.
The doors of the castle were carved by John North, who was born April 13, 1825 in London, and died March 11, 1910 in Syracuse. Syracuse University has the doors in storage.
The building, originally known as "Longstreet's Folly," was occupied between 1900-1906 by Professor and Mrs. A. Lincoln Travis. They conducted the Syracuse Classical School that prepared students for college.
After purchase by Syracuse University it was occupied first by special students and later by the Margaret Olivia Slocum Teacher's College. After Mrs. Russell Sage donated $150,000 to endow the Teacher's College, it moved its offices to Slocum Hall. Yates Castle then became the home of the School of Journalism and student publications.
The lodge had been destroyed and its rustic bridge was replaced about 1890 and again in 1908. When the College of Medicine was built in 1937, it was necessary to remove the concrete bridge that had been constructed in 1908; it was successfully accomplished after several dynamiting's. (1938)
See the Archives' Virtual Exhibition on Yates Castle.