2019 Brodsky Workshop: Textiles in the Archives
Deborah Lee Trupin shares conservation methods for textiles.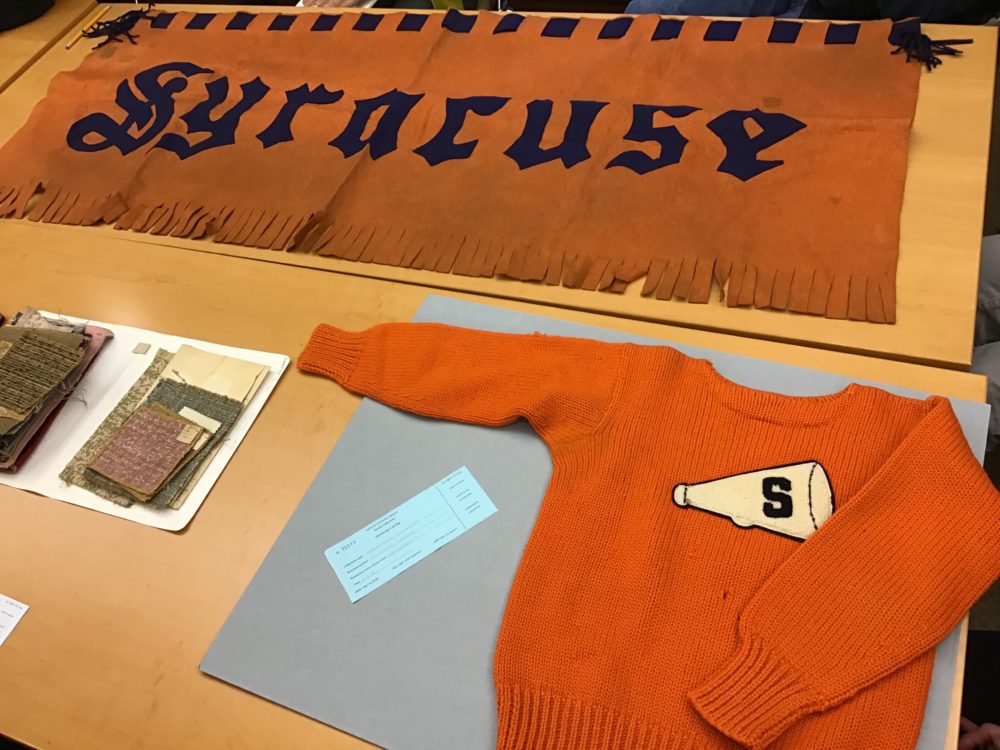 By Grace Wagner, Reading Room Access Services Supervisor
When Deborah Lee Trupin pulled out a vacuum cleaner to demonstrate a common curatorial method of cleaning textiles, it became apparent that we were not in a standard conservation workshop. This demonstration was part of SCRC's Brodsky Series for the Advancement of Library Conservation, an endowed program held annually at Syracuse University, beginning in 2004. This year, the workshop and lecture series took place on Thursday, April 11, 2019 and highlighted the field of textile conservation.
Deborah Lee Trupin began the workshop with a series of slideshow images, documenting various projects she had tackled during her 35-year career in textile conservation. She discussed work she had done independently, as the principal of Trupin Conservation Services, as well as projects she had taken on for other organizations, including the New York State Office of Parks, Recreation and Historic Preservation's Bureau of Historic Sites (Peebles Island) and Waterford, NY. Later in the day, she would cover more fully some of her work in treating and restoring historic flags at the Bureau of Historic Sites during her talk, titled A Tale of Two Flags: How History of Treatment and Ownership Affected Conservation Treatment of Two Early Nineteenth-Century American Flags.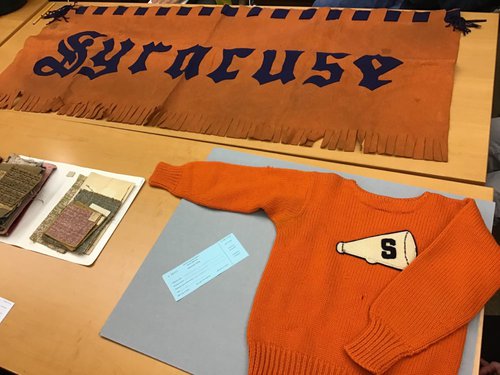 Textiles from our University Archives collections used during the workshop included a Syracuse University banner made out of felt and a cheerleader's sweater, likely dating to the 1950s.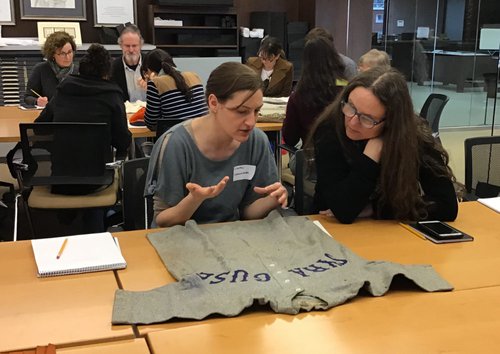 Workshop participants examining a Syracuse University baseball uniform.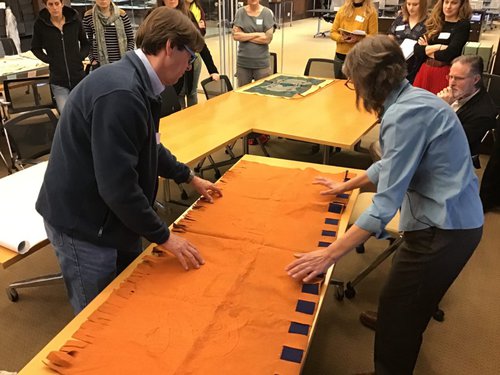 Conservator David Stokoe and Deborah Lee Trupin prepare the banner for rolling.
Deborah then divided the workshop participants into pairs and we went to work examining and describing the condition and potential treatment and storage solutions for materials in SCRC's collections. While textiles are not a main area of focus for SCRC's collections, it was surprising to see the breadth of examples that belonged to the collections once laid out on tables. For the workshop, a main area of focus was University Archives materials.
Workshop participants assessed Syracuse memorabilia, including baseball uniforms, pennants, and Ernie Davis' jersey. An Otto the Orange costume even made an appearance in the room.
Trupin wrapped up the workshop by showing the group some basic conservation techniques for some of the materials we had just discussed. One of these techniques, as previously mentioned, was using a specialty conservation vacuum cleaner to gently remove dirt and other debris from textiles. Trupin also demonstrated a better storage method for a large felt Syracuse University banner. The banner had been folded in a box for years and there were visible crease lines on the object.
Trupin showed the group how to roll the banner around a large wooden dowel, which would prevent crease lines from forming. She carefully placed acid-free tissue paper in between each layer and made sure that the banner's fringe remained flat and unfolded.
The Brodsky workshop this year helped illuminate some key differences between archival documents and textiles. In working with archival documents, context is always a key consideration: "Who wrote this letter? Why did they write it? When was it written?" For many objects in our collections, these considerations of context boil down to a specific moment in time: the key moment of creation and interaction with the creator. The same is not often true for textiles. The cheerleader's sweater, the baseball player's uniform, the pennant — these pieces were regularly worn and used by SU students and were part of the wearer's daily life in a tangible, measurable way.
The Brodsky workshop this year helped set us on a clearer path to maintaining the integrity of these materials through better textile conservation practices. With any luck, our textiles will continue to maintain their integrity for years to come.
What we learned:
Watch out for bugs! As with rare books and manuscript materials, make sure that garments stay protected from pests. Moths and beetles are pests to watch out for, since they feed on keratin found in wool and other textiles.
Take care when washing. Be careful when washing textiles. Some fabrics do not react well to laundering, even if you are just using soap and water, and can cause more damage than good. It is best to consult with a professional before washing rare materials.
Do not fold. The best way to store textiles is in a way that maintains the integrity of the original piece. There are differing schools of thought on what this practically looks like in an archive. Sometimes conservators store materials flat in boxes, hang clothing from foam-packed hangers, or roll flat materials like banners around wooden dowels.
Show your age. Sometimes, it is better to retain the stains and signs of wear on a garment. In certain cases, as with our Ernie Davis jersey, it can be more valuable to preserve the evidence of historic use than to attempt to scrub it clean.
The Syracuse banner, cheerleader sweater, and baseball uniform that feature in the images in this post are part of our Syracuse University Memorabilia Collection (Syracuse University Memorabilia Collection, University Archives, Special Collections Research Center, Syracuse University Libraries).