Boxed in at the Library
Using the box maker to create housing for glass plate negatives.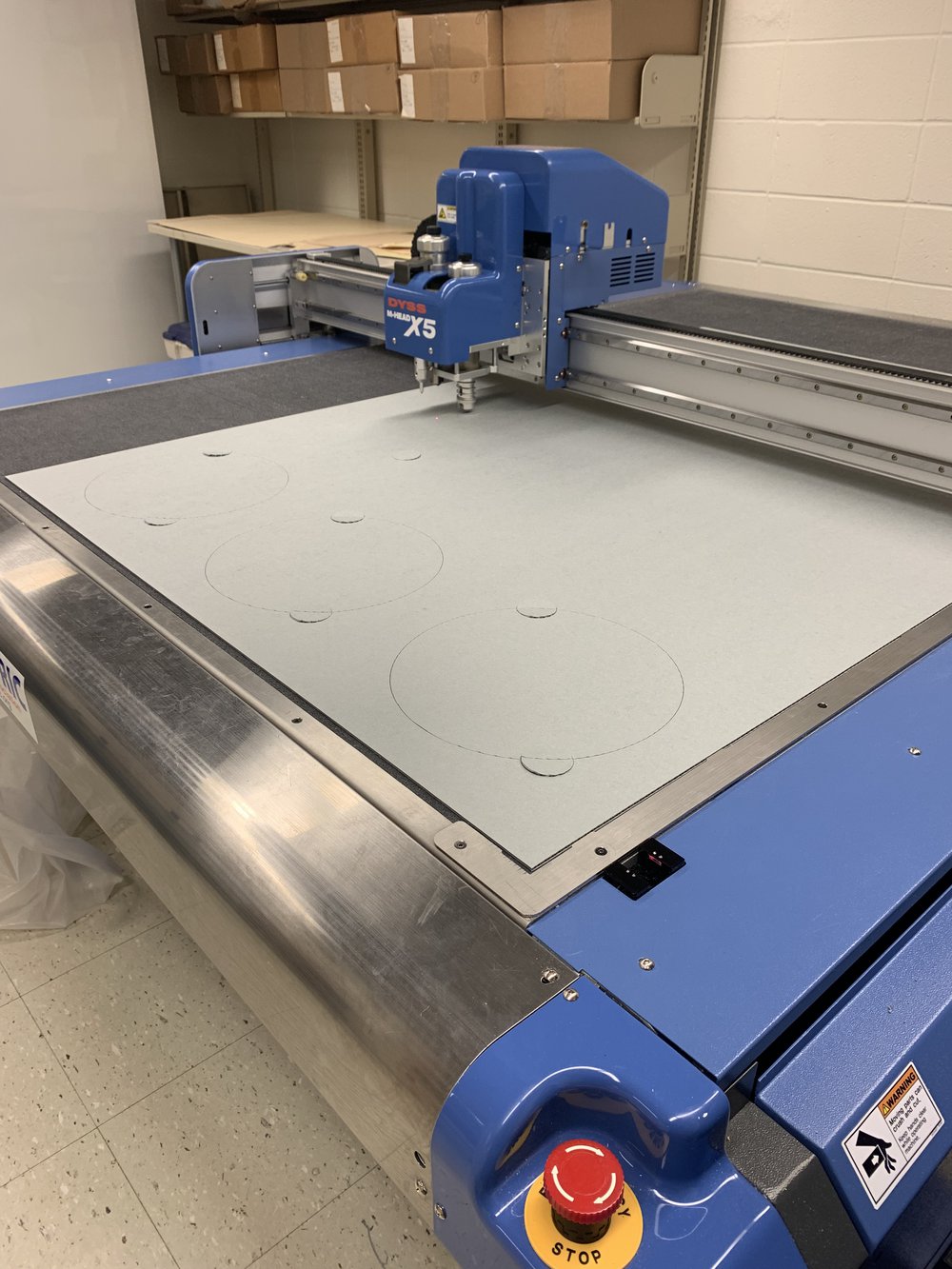 Creating Housing for Glass Plate Negatives
by Lauren Quackenbush, Conservation Assistant, Special Collections Research Center
On the 6th floor of Bird Library's Special Collections Research Center (SCRC), there is a Conservation Lab where a Rare Book and Paper Conservator works on noncirculating items within SCRC's collection. As a graduate student employee, my predominant purpose is to create housing that will protect items of varying sizes. This task results in being able to operate a DYSS X5 Digital Cutter and accompanying KASEMAKE software, also known as: the box maker.
One such project has been creating housing for glass plate negatives (GPN). They were being stored all together in a cardboard box. This box and storage materials within it were not archive quality. This means they are made of low-quality resources which will cause the degradation of the GPN to occur more rapidly. The materials for housing we use in SCRC are of archival quality to prolong the life of the item and better protect items from light, dust and decay.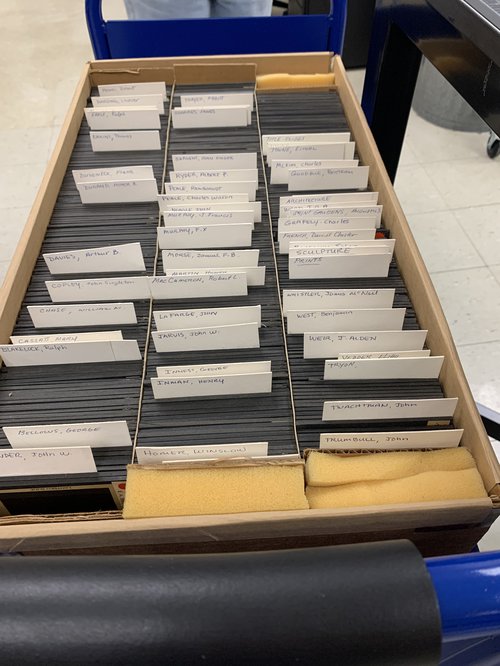 GPN shown in their original cardboard box.
There is an assortment of slides that show works of art, sculptures and photographs of architecture. They are organized by medium and the names of the creators. Here is a small sample of the slides that caught my attention due to the content seen in the images. I've never handled GPN, so I spent more time looking them all over than I should have as they are such interesting forms of photography. I was excited to see the Lincoln Memorial, as I will be in Washington D.C. soon and will be able to see this building in person.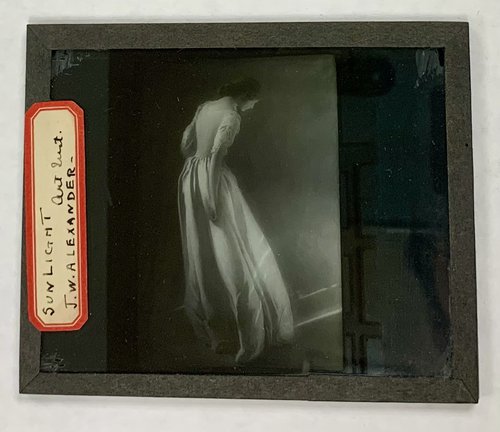 Sunlight by J.W. Alexander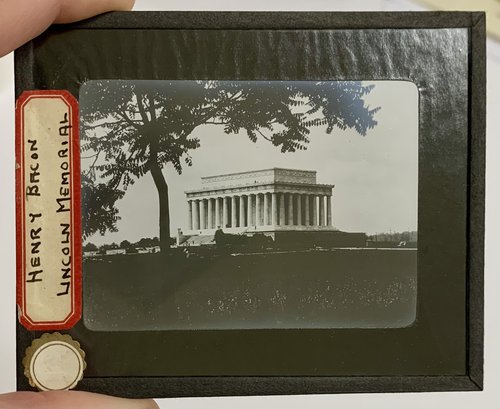 Lincoln Memorial by Henry Bacon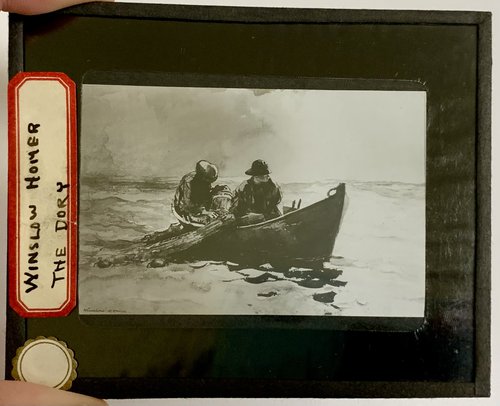 The Dory by Winslow Homer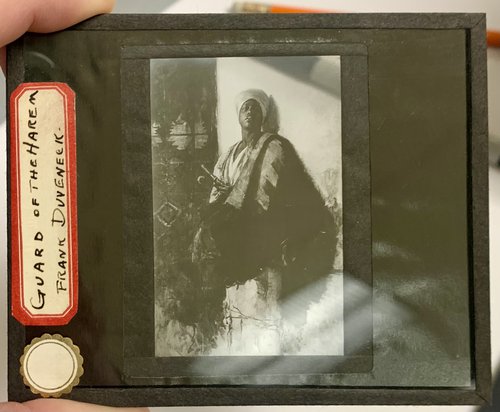 Guard of the Harem by Frank Duveneck
Fortunately, the box maker has many kinds of box formats to choose from. When you find the one you need, you can add the dimensions and have the machine cut it out for you. One such box format was for glass slides. We decided we would create a box that housed a limited portion of the slides, so as to not "put all our eggs in one basket." This way, in case one box was dropped and damaged, it would not result in the entire collection being at risk of damage.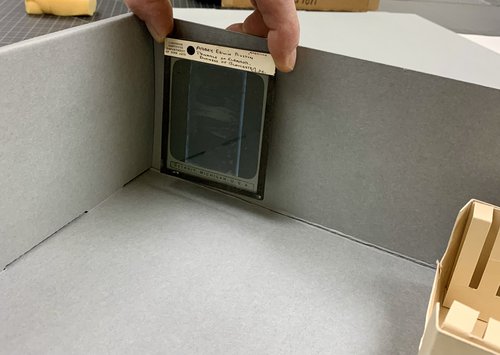 Guess measuring the size GPN in relation to the size of boxes.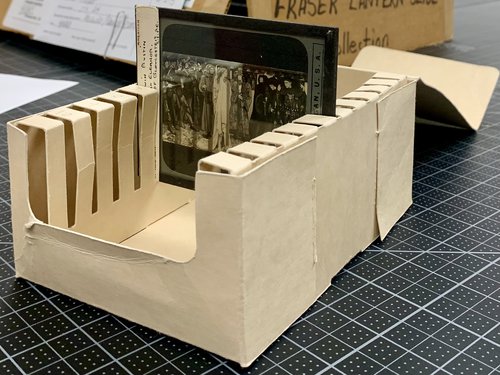 GPN in sample slide box.
After much back and forth tweaking with the dimensions for the slide box, we were able to begin producing them to house the GPN. After being cut, they were folded and some parts were reinforced with hot glue to ensure they could each hold the weight of 16 slides.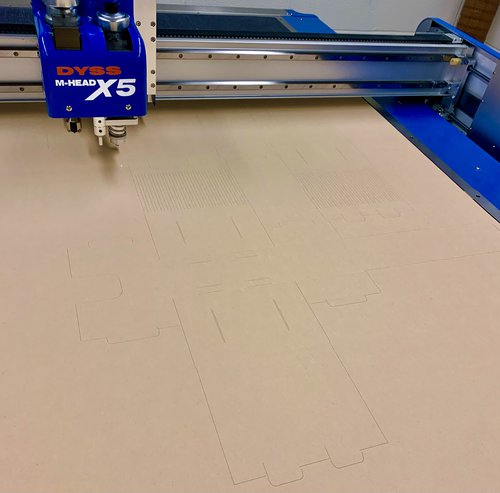 Box making machine cutting out the final design.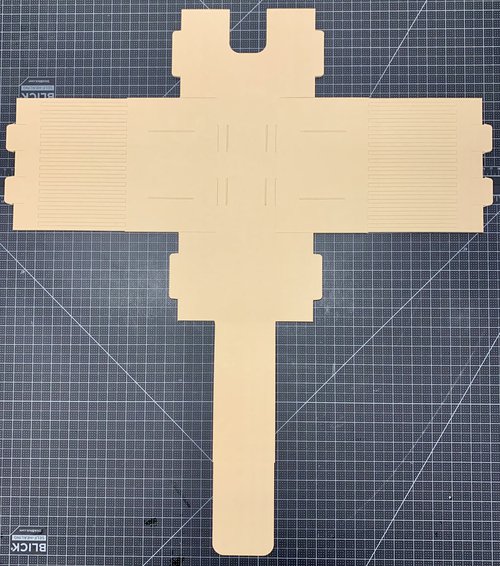 Final GPN box ready to be folded up.
Lastly, we created a larger more stable box that would hold 4 GPN slides at a time. Since these may be stored in our off-site Library Facility, we needed to create housing that would not be too cumbersome for Libraries staff to procure and transport when these items are requested. We used a design that allows one side of the box to slide open for safer and easier removal of the GPN boxes. Within the box making software we were able to add a finger hold on the sliding side of the box and text on the other instructing people how to safely remove these items from their housing.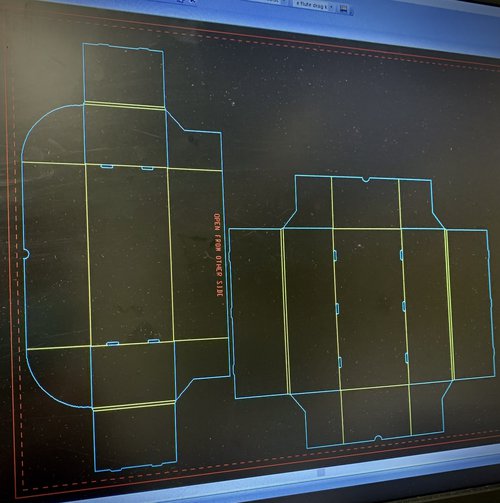 Design of larger box as it appears in the KASEMAKE software.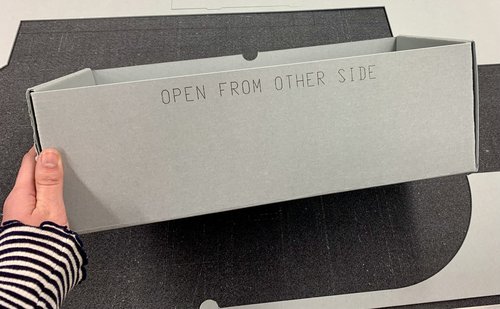 Assembled box with text that reads "Open from other side."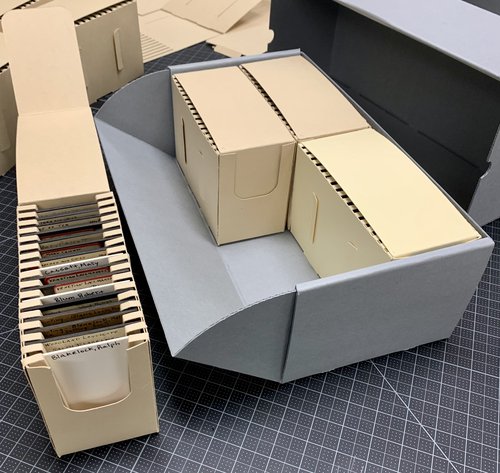 Posed final GPN boxes within the larger box all created for this project to house these slides.
It has been a true joy to be able to work in SCRC. I'm very fortunate to have had this opportunity to work with this machine as it has taught me a lot about how to best protect items in special collections. I've learned there is just as much skill required in problem-solving as there is know how to operate the machine. There are any number of ways to best house items to ensure safety and efficiency.