Deep Dive in the Archive: The Role of an Archivist
What is an archivist? Archives collect and provide access to primarily unpublished items.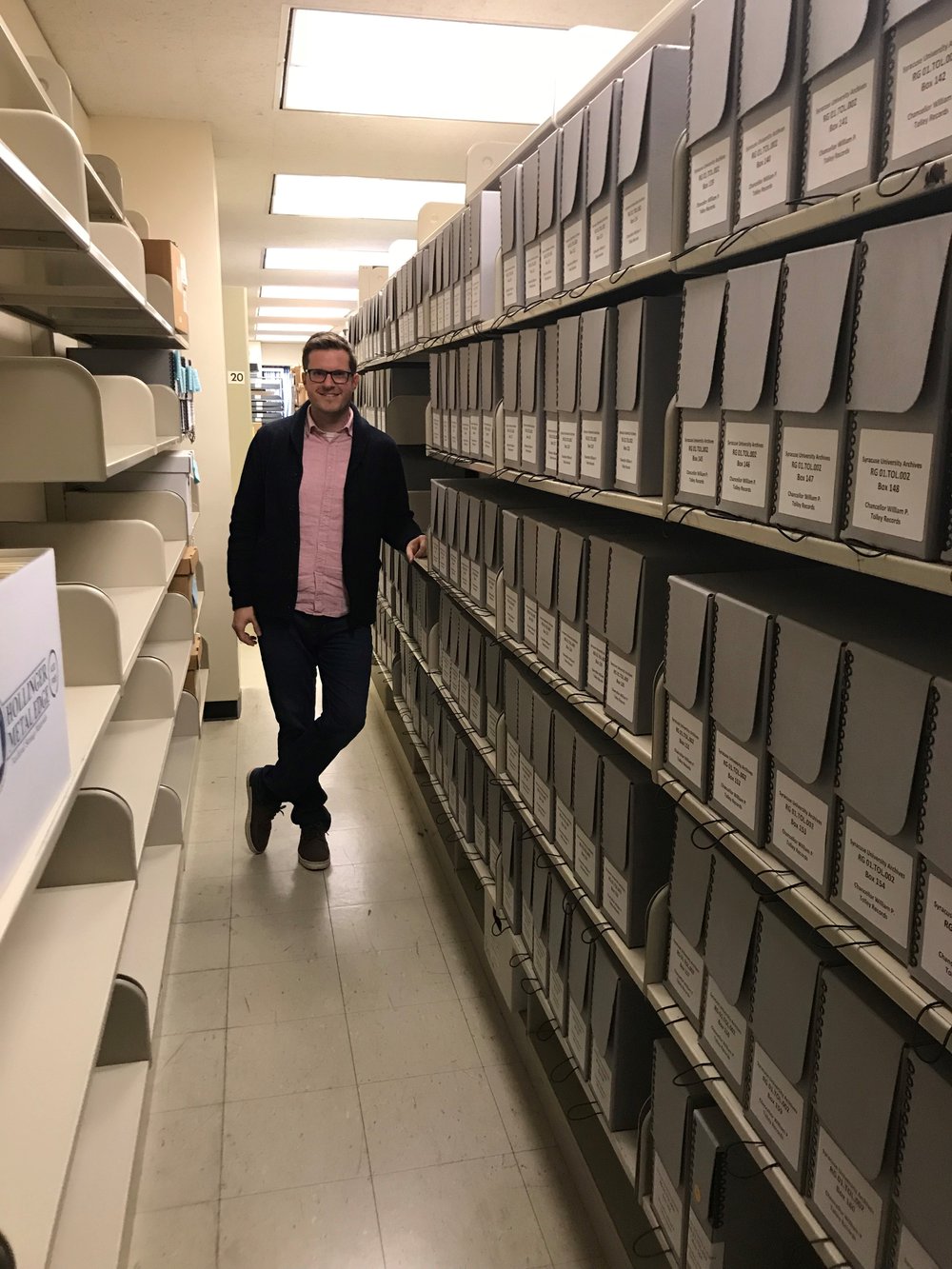 by Dane Flansburgh, Assistant Archivist, Special Collections Research Center (SCRC)
I am often asked for the particulars of what I do. What is an archivist? Is that similar to an archeologist, people ask, or, say, an architect? No, sadly the work that I do is nothing close to Indiana Jones, and my lack of math skills prevents me from ever designing buildings. Archivists work in archives, and how I like to describe archives to people I meet is that much like libraries collect and provide access to published and commercial material (books, magazines, movies, etc.), archives collect and provide access to primarily unpublished items. Items such as journals, diaries, correspondence, scrapbooks, home videos – all these items and more are found in the archives.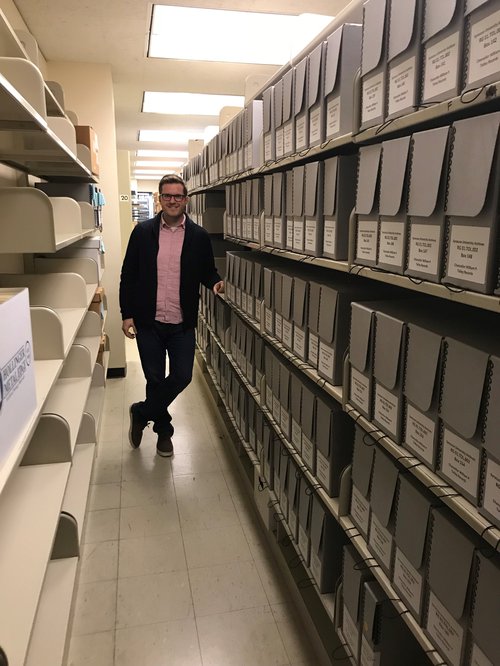 Dane poses with all 174 boxes of Chancellor William P. Tolley's Records, the product of 12 months' labor. Not pictured here are the other 44 boxes that became Chancellor William P. Tolley's Papers, which Dane processed at the same time.
But what do archivists do? How do we go about our work? Archivists help develop and write collection development policies for their institutions that dictate what their repository does and does not collect (Syracuse University Archives only collects materials related to the University, for example). They accession the materials they collect, which establishes intellectual and physical control. They process (arrange and describe) the materials so that they are accessible to the public. They preserve materials by ensuring proper storage, whether through rehousing materials in acid-free folders and boxes or maintaining proper climate-controlled storage areas. They sometimes perform conservation to recover damaged items, although this is often left to professional conservators. They may assist patrons with their research by helping them uncover relevant materials to their research. And finally, they safeguard the materials by enacting security measures to ensure material does not go missing – for example, archival material never circulates and can only be viewed in a reading room. At large institutions, these responsibilities will be spread across many archivists; at small ones, one person may be responsible for all these tasks (those who are the only trained archivist on staff often refer themselves as "lone arrangers").
So, what do I do? My title is Assistant Archivist, and I work in the processing unit. When we receive materials I accession them, documenting who gave us the material, when they gave it to us, how much there is, and what's in the material. I establish a collection name for the materials or link it to a collection we already have (for example, if someone donated a box of William Safire letters, I would link the accession to the William Safire Papers, a collection we already have). Finally, I process the material. This has two parts: I arrange, or organize, the material, and then I describe the materials in what we call a finding aid. A finding aid is a guide to a collection, explaining what is in the collection and providing context for it. Our finding aids at SCRC are searchable here: https://findingaids.syr.edu/
Before I begin processing a collection, I do an initial survey. What is the condition of the materials? Is there original order (in other words, an arrangement that the creator established)? Is it neatly arranged or are the materials thrown in boxes? Any documentation of what the materials are, such as folder titles or labeled envelopes? Any preservation concerns, like mold or rolled up items? Does the collection contain audiovisual media, and if so, how much and what formats? How much material exactly is in the collection? During my survey I begin to form an idea of how to process the material and look for potential series in which to arrange the materials. Lots of letters? Good, I have a correspondence series. Oh, some artwork and photographs? Two potential series there as well. Sometimes items within a collection may not have a clear place in the arrangement, but I don't fret – I set it aside and come back to it as I get further into processing the collection. I write up a processing plan, then I meet and go over it with the relevant people in my department, depending on the nature of the collection; this might include the Lead Archivist, University Archivist, Media Archivist, Conservator, and/or SCRC Assistant Director.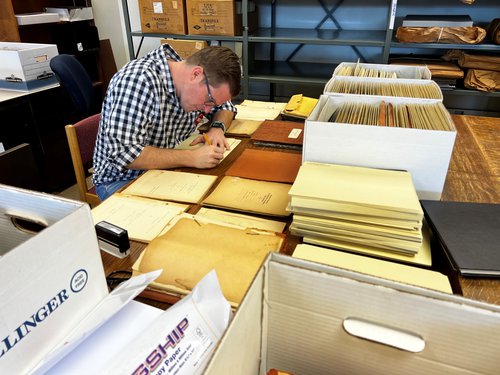 Dane labels folders; these folders organize a collection and help researchers make sense of a collection's finding aid—their roadmap to researching.
With a plan in place, I officially begin processing. I arrange materials into what is known as series, or groups of materials. Series can either be arranged by format (films, photographs, artwork, etc.) or function (correspondence, financial, coursework, etc.), and sometimes within a collection you may find both – it's not unheard of to have both photographs and a correspondence series within the same collection, for example. With materials that have some sort of order (particularly folders with original titles), I sort folders into their appropriate series. Next, I tackle arranging folders within each series. Typically, I arrange folders alphabetically, although there are occasions when chronological arrangement makes more sense (correspondence is sometimes arranged chronologically, for example). Once I have all the folders placed in appropriate series and arranged alphabetically (or chronologically) within the series, I begin refoldering. We always replace the old folders because of preservation concerns – old folders are acidic and can hurt the materials over time, whereas now we have acid-free folders. When we refolder the materials, we properly label the new folders with collection name, series, folder title and date range. I place the new folders in acid-free document boxes, ensuring that the boxes are not crammed so tight that the folders are difficult to remove yet not so empty that folder slump over and damage the documents. I place any oversize materials in oversize folders and boxes. I interleave acidic items, like newspaper, so that it does not damage the other materials in the folder. Finally, I place photographs in mylar to ensure long-term preservation (for glass plate negatives, I place the negatives in sleeves and store vertically in specially made boxes).
The process of arrangement is much quicker when there is a semblance of original order; the process is much slower when there is no original order. It is not unheard of to open boxes and be greeted with a pile of random materials. When this happens, I need to carefully go through the materials and determine what exactly I am looking at and how to describe it. At times, it is straightforward and clear (like a letter from an individual); sometimes it is less clear (like several pages of handwritten notes on an unknown topic). These unorganized collections are challenges that demand item level review and slow down processing considerably.
Stay tuned for more information about arranging and describing one such collection, and the challenges I faced.