Collection Spotlight: ProQuest TDM Studio for Text Mining
ProQuest TDM Studio provides a platform for researchers to mine the vast trove of ProQuest holdings.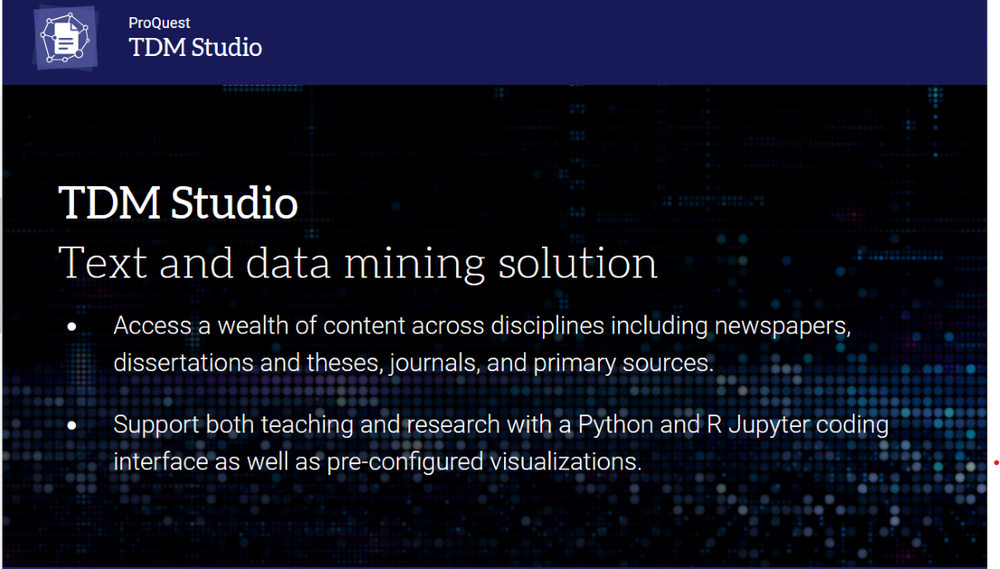 by Paul H. Bern, Ph.D., Research Data Services Librarian
ProQuest TDM Studio (TDM) is a text mining platform available to all Syracuse University students, faculty and staff. TDM allows users to explore and mine all of the sources available through our ProQuest subscription. This is a powerful tool for analyzing recent and more deeply historical scholarly publications, primary source texts in the humanities, business, public policy, public health and other scientific literature, as well as extensive recent and older U.S. and international journalism.
The platform is free to use but requires users to register. There are two main sections of TDM: ProQuest TDM Studio Workbenches and ProQuest TDM Studio Visualizations.
TDM Workbenches is a programming environment that allows users to develop sophisticated text mining applications. With this tool, users can search, extract and analyze large amounts of text available through ProQuest. TDM workbenches allows up to five members of a team to have simultaneous access; at least one member of the team must be an SU affiliate. Access must be specifically requested and is granted in one-week or one-month increments and can be renewed as necessary. Users must be well-versed in either the R or Python programming languages to use TDM Workbenches.
TDM Studio Visualizations supports geographic analysis, topic modeling capability and sentiment analysis across a set of major U.S. and international newspaper titles. Unlike TDM Workbenches, TDM Visualizations requires no programming experience. All users may access Visualizations by going to TDM Studio and selecting "Create Account."
For more information on Workbenches and Visualizations please go to the ProQuest TDM Studio Guide or send an email to Research Data Services To provide feedback or suggest a title to add to the collection, please complete the Resource Feedback Form.