New Acquisition: Jantzen Swimwear Advertising Portfolio
Jantzen Swimwear advertising photographs from the 1930s and 1940s.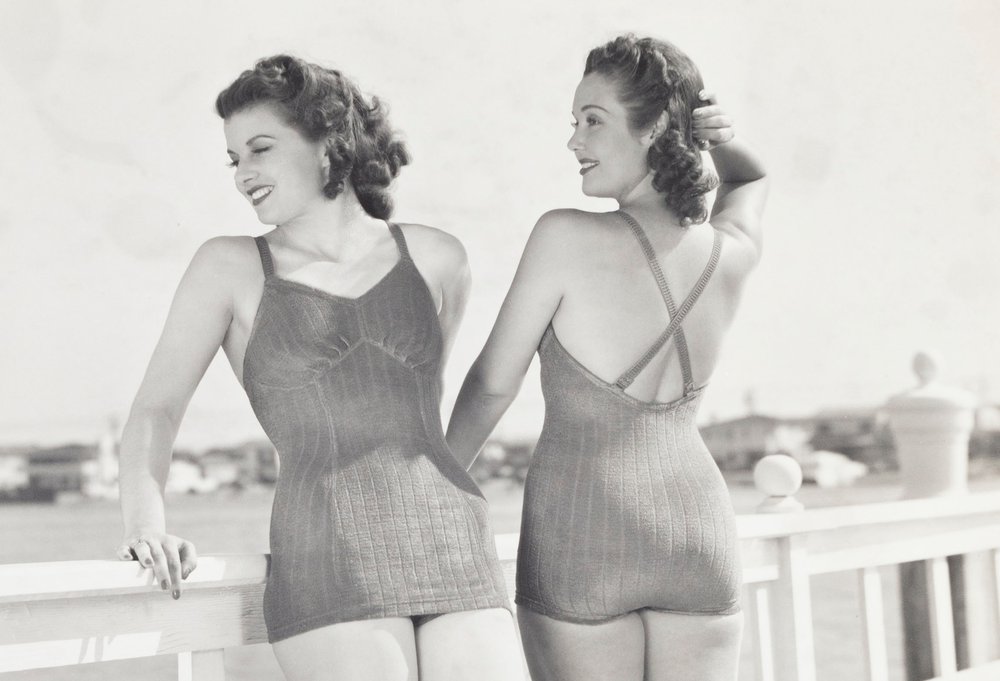 What is the value of a new acquisition? Curators must consider how new items fit into already existing collections and why a new piece is relevant and worthwhile to add. SCRC's recent acquisition of a portfolio of Jantzen Swimwear advertising photographs from the 1930s and 1940s features 111 silver gelatin prints of swimwear from this era, bringing value to our collections in relation to plastics, fashion, advertising and photography materials. Three staff members discuss the value of this acquisition below.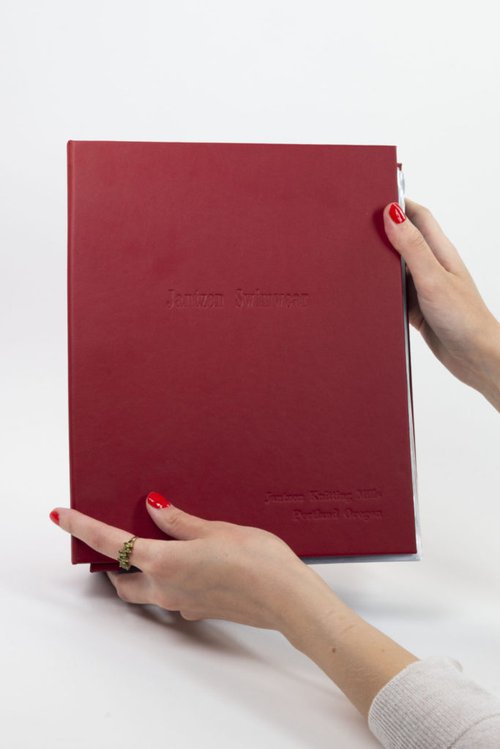 Cover of the Jantzen portfolio which is embossed in red with "Jantzen Swimwear" in the center and "Jantzen Knitting Mills Portland, Oregon" in the lower right corner.
Fashion and Plastics
Courtney Asztalos, Plastics and Historical Artifacts Curator
This acquisition of the Jantzen Swimwear advertising portfolio illustrates the relationship between American fashion, the textiles industry, and the rise of the plastics industry during the 1930s and 1940s.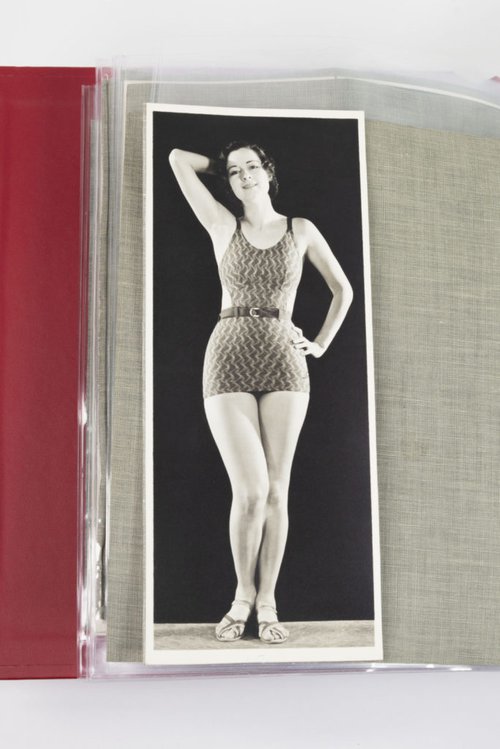 Advertising photograph from the 1930s showcasing the new types of fabric and styles introduced by Jantzen.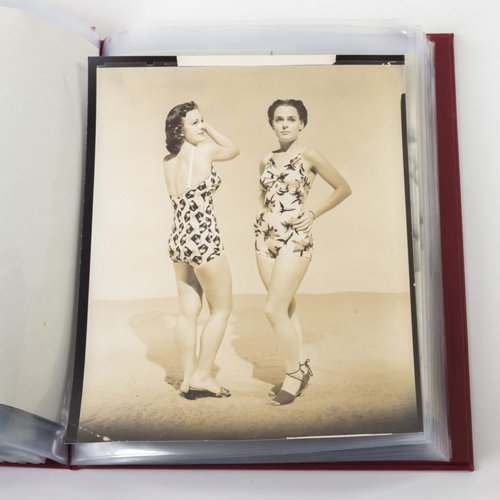 Models posing in palm-tree print bathing suits from the Jantzen portfolio.
The photographs in the Jantzen portfolio are evidence of artificial and synthetic fibers' role in transforming American swimwear. One rubber yarn present in these swimsuits and of particular historical importance is Lastex. This "miracle fiber" was patented in 1931 by Percy Adamson, of the Adamson Brothers Company. The Adamson Company quickly became a subsidiary of the US Rubber Company (a company under the ownership of the Du Pont family starting in 1927), and Lastex entered the market for distribution in 1931. Lastex earned the title of the "depression solvent" because of its ability to hold shape and its reputation for durability through the laundry process. Lauded in its time as one of the most inventive achievements in the manufacturing of textiles—Lastex was latex in thread form. Latex was created by manufacturing a rubber tree's milk and then extruding the result into a round thread form. This new thread was then tightly enclosed with wound layers of yarn such as cotton, wool, acetate, silk or rayon.
Americans were skeptical of artificial fibers in the earlier part of the twentieth century because of their unpredictability, particularly through processes of washing and ironing. Through the process of cleaning these garments, such as early rayon, consumers found clothing would stretch out and become gummy and unwearable. However, with innovations in textile manufacturing and the practice of combining various types of new fibers to achieve more durable fabrics, American trust shifted.
By 1932, Jantzen was one of the most recognized trademarks in the world due to their advertising strategies and the popularity of the Diving Girl logo. Jantzen's utilization of Lastrex helped them to further develop their brand as "smart swimming apparel." As the 1930s advanced, Lastrex allowed Jantzen to create new bathing suits that differed from the previous woolen suits known for soaking up water and drooping. The ways human bodies were on display in public swimming spaces drastically began to change—shapes now could be smoothed, structured, or suppressed in an infinite number of ways.
Hollywood and Advertising

Grace Wagner, Reading Room Access Services Supervisor
The Jantzen Swimwear portfolio brings value to SCRC's collections for what it tells us about twentieth-century fashion, through the lenses of Hollywood fashion, advertising, and popular culture. During the 1930s, Jantzen's innovative approach to fabrics and textiles, coupled with a persuasive and pervasive advertising department, led the brand to dominate the burgeoning swimsuit industry. Jantzen's advertising emphasized the essential nature of swimming as a leisure activity, no longer available only to wealthy resort-goers, but a democratic, all-American pursuit.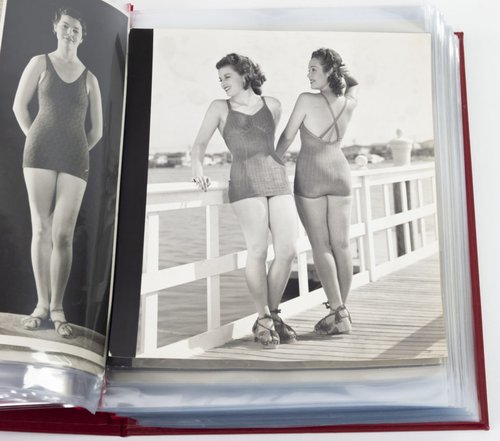 Models posing near the boardwalk in the Jantzen portfolio.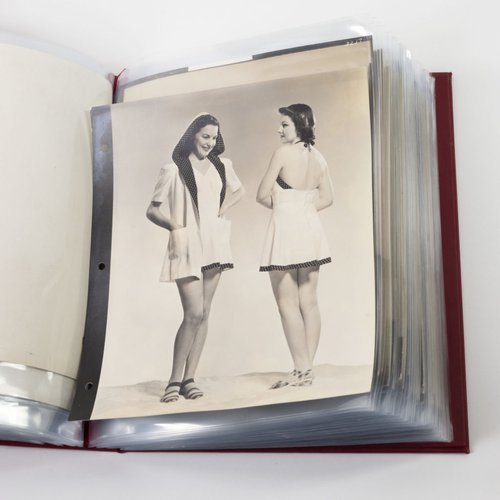 Jantzen's glamorous hooded cover-up echoes similar styles worn by Hollywood stars in the 1930s and 1940s.
Jantzen struck a balance between glamour and accessibility in its advertising. This essential balance is evident in the photographs in Jantzen's advertising portfolio. In addition to traditional posed studio shots, models for the Jantzen line lounged near pools, frolicked in the water, and smiled on boardwalks. They accessorized with espadrilles and cover-ups and stood next to wicker furniture, highlighting the expanded role that swimming was assuming in American life through a range of products. Looking at the Jantzen portfolio of photos, the stylish swimwear and photography set-ups mimic standard glamour shots and fashion styles popular in Hollywood during this time.
The stylish advertisements presented the idea to Americans that they could be as glamorous as Hollywood stars in their Jantzen swimwear. And, in fact, Jantzen's relationship with Hollywood extended beyond the design of their advertising photographs. The company frequently enlisted up-and-coming stars to model for the Jantzen brand, beginning with actress Loretta Young, who was awarded the title of "Miss Jantzen" in 1931, and continuing throughout the 1930s and 1940s with other stars, including Esther Williams, Marilyn Monroe, and James Garner. The styles of the company's swimwear naturally echoed styles worn by stars on screen as well. For example, a glamorous hooded beach coat (pictured below) bears a noticeable resemblance to Lana Turner's iconic white beach coat and bathing suit in 1946's The Postman Always Rings Twice.
Cover-ups like this beach coat helped make the company's otherwise cheeky bathing suit designs respectable. The practice of putting a wholesome cover-up over a scandalous suit applied to both male and female bathers at this time. Several pictures in the advertising portfolio feature male swimmers dressed in what appears to be a men's one-piece bathing suit. In fact, a zipper separates the upper and lower halves of the swimsuit, making the adjustable swimsuit versatile for the wearer, as many public beaches at this time required men to cover their chests.
Teaching and Research

Colleen Theisen, Chief Curator of Exhibitions, Programs, and Education
When considering whether to acquire an item being offered as a donation or being sold from a bookseller, a primary concern for a curator is how the item will be used by researchers and in particular how interesting it will be for teaching here at Syracuse University.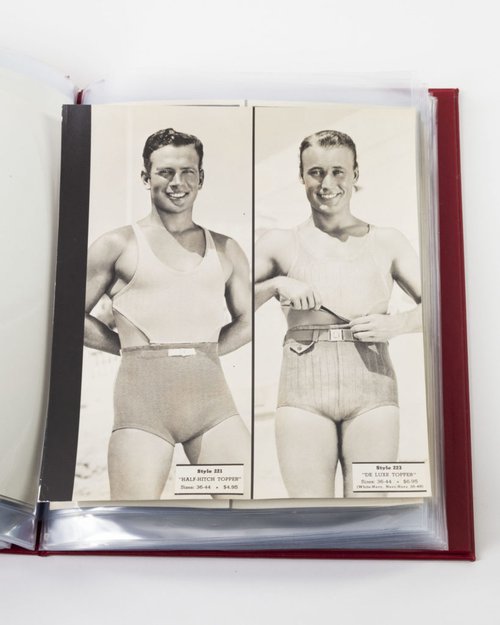 Jantzen's one-piece adjustable men's bathing suit.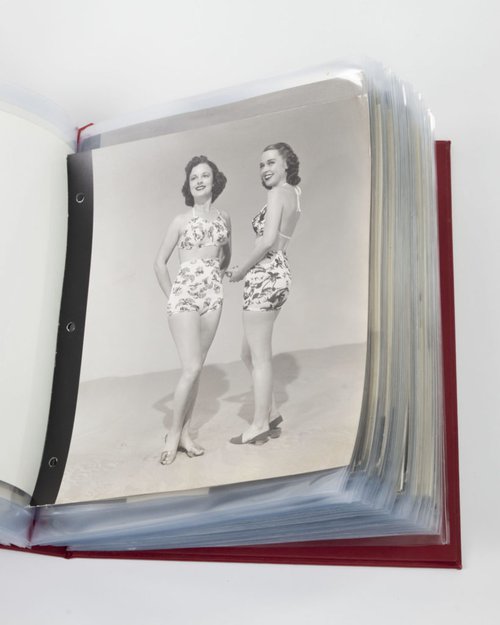 Glamorous Jantzen models pose in the new bathing suit styles from the 1930s.
The Jantzen Swimwear advertising portfolio has crossover interest for many departments on campus and so it is a good fit for using in our classroom with a wide variety of materials. Classes studying the history of advertising have an example of one company's internal documentation of their marketing images, and they can take a look how the shots are staged, or investigate the larger social construction of race, class, and gender through marketing at the time. Classes interested in photography have 111 example of silver gelatin prints and can study the physical prints themselves, or photography in the context of marketing in the 1930's. The glamorous Hollywood style images are so visually compelling that they can be paired with any mix of materials for a introductory class demonstrating the wide variety of material available for historic research in a special collections. Beyond their contextual and historic information, the binder is sturdy and the photographs are in clear sleeves which means the pages can be turned by students in classes without having to pull out white gloves to handle the photographs, which means it is easy to use and can physically withstand classroom use.
The Jantzen Swimwear Photographs are part of SCRC's special collection materials (Jantzen Swimwear Photographs, Special Collections Research Center, Syracuse University Libraries).
Special thanks to the team at Between the Covers for their research while listing and selling this item without which our team could not have started to dream up uses for it.
Additional Sources:
Craig, Hazel Thompson, 1904-, and Ola Day Rush. Clothes With Character. Boston: Little, Brown and company, 1941.
Lenček, L., & Bosker, G. (1989). Making waves: Swimsuits and the undressing of America. San Francisco: Chronicle Books.
Richmond, Clifford A. The History And Romance of Elastic Webbing. [Easthampton, Mass.: Printed at the Easthampton news company, 1946.
Ward, Susan. "Swimwear." Encyclopedia of Clothing and Fashion, edited by Valerie Steele, vol. 3, Charles Scribner's Sons, 2005, pp. 250-255. Gale Virtual Reference Library.
Wallance, Don. Shaping America's Products. New York: Reinhold, 1956.