Virtual Plastic: SCRC as Creative Laboratory
Professor Jacob Riddle, a faculty member of Transmedia and the School of Art used Plastics Artifacts Collection for Digital Fabrication and Transmedia courses.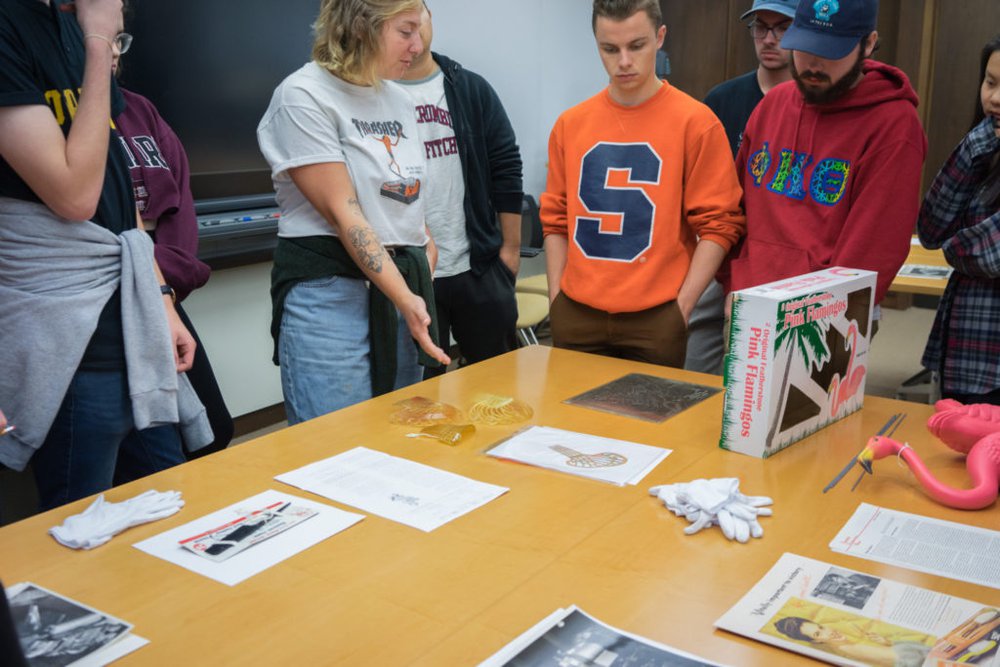 By Courtney Asztalos, Plastics and Historical Artifacts Curator
During the academic year of 2018-2019, Jacob Riddle, a faculty member of Transmedia and the School of Art, and I partnered with his Digital Fabrication and Transmedia courses. The goal was for students to create 3D prints and VR sculptures utilizing SCRC's Plastics Artifacts Collection. We accomplished this by creating a temporary lab space in Special Collections for the students to practice photogrammetry. Photogrammetry is a method of 3D scanning used by artists and cultural heritage institutions for documenting artifacts. Students used this process to create 3D models of objects from the Plastics Artifacts Collection. These models became starting points for the creation of virtual reality (VR) sculptures and 3D prints. The students' sculptural and artistic renderings are akin to methods of collage art and remixing.
The goal of this assignment was not to reproduce the artifacts into a virtual or physical existence but to reimagine and create new works of art. By partnering with Jacob and his classes, it was the first time that Special Collections and these departments worked together with artifacts and 3D scanning as both inspiration and material. One of the benefits of hosting Jacob's classes in both fall 2018 and spring 2019 was the ability to review lessons learned in the Fall and immediately implement changes during the Spring.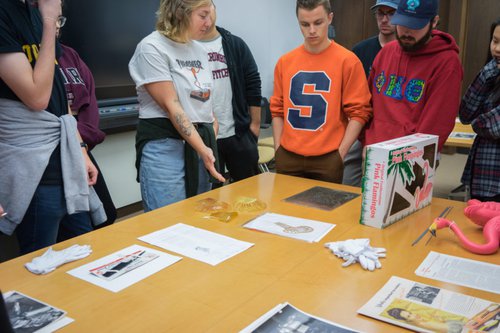 Materials displayed during the session included celluloid and nylon objects shown alongside related product literature, collector newsletters, original photographs, and advertisements.
During both semesters, Jacob brought his classes (ARI 300/500 & 600 Digital Sculpture, TRM 351 Advanced Transmedia Studio) to SCRC for a one-hour instruction session introducing students to SCRC, archival research, and the Plastics Artifacts Collection. Students engaged with a wide range of historical artifacts, documents, photographs, and books.
During the fall, students worked in groups, and 3D scanned together. Jacob and I pre-selected a limited group of artifacts for the students to photograph. We selected artifacts that represented a wide range of plastics material culture. Artifacts were chosen for how they would scan properly and alternatively for how they could pose a challenge due to reflectivity and transparency. Jacob wanted students to explore the limitations of photogrammetry through this active learning.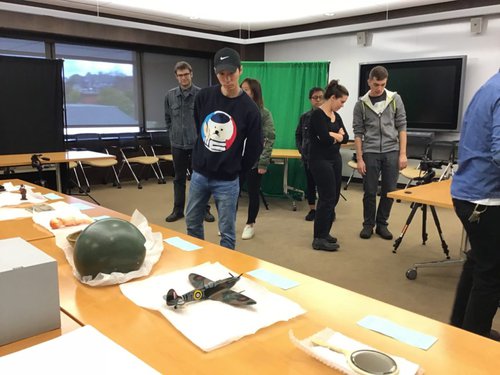 Students choosing their artifacts in Fall 2018.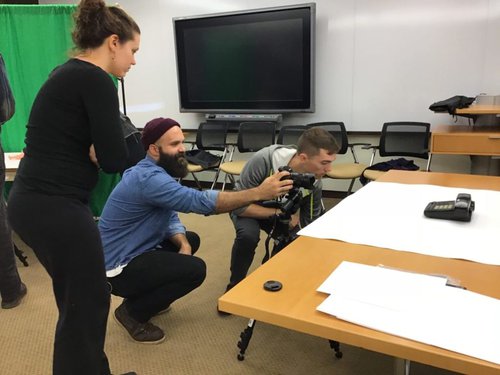 Jacob Riddle teaching students how to scan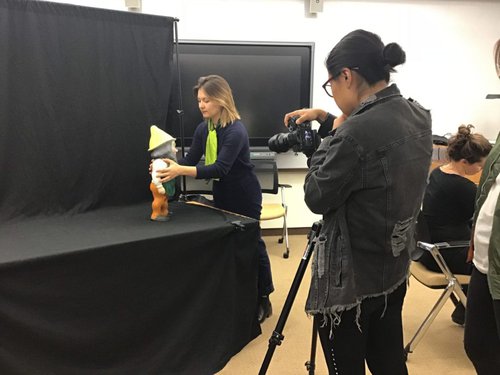 Students 3D scanning their artifacts.
During the spring semester, Jacob and I switched things up. Students came in again for a one hour historical plastics session. During this session, students learned about the different facets of the SCRC process and registered as researchers. After this session, they had two weeks to select one plastics artifact each. Once artifacts were chosen, students came back to SCRC to 3D scan their objects individually. During this scanning session, they also consulted with me for an individualized introduction to researching their object with SCRC materials and SUL resources. Our decision to have students choose their own artifacts proved to be a fruitful choice. Through choosing artifacts, students were engaging with inquiry-based learning while strengthening their research skills with primary source materials. We were excited by this improvement during the spring semester as it inspired significant insights and innovations in form and concept. An outstanding example of this success is evident in the work of Darcie Brown.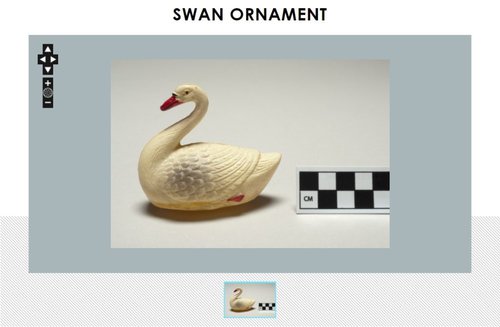 The celluloid, blow-molded swan ornament (artifact accession number 2011.072) Darcie Brown selected as her plastic object.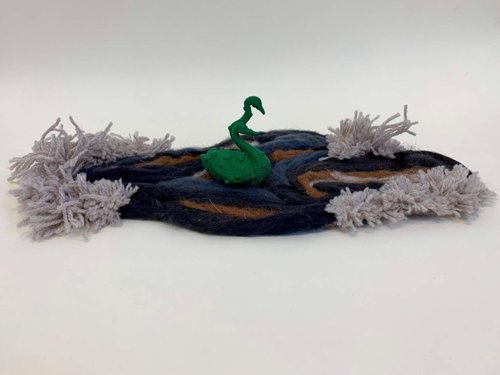 The 3D-printed mutated version of the plastic swan ornament created by Darcie Brown as part of her final presentation for the class.
Darcie Brown, a Master of Fine Arts graduate student, was inspired to work with a celluloid, blow-molded swan ornament (artifact accession number 2011.072) manufactured in the early twentieth century by the Viscoloid Company, which was later acquired by the Du Pont Company in 1925. Her research in SCRC's Reading Room with manuscript materials brought to light the disparity of plastics chemicals manufacturing companies' outwardly expressed concerns for the environment versus their toxic manufacturing processes that polluted the environment. Brown demonstrated this disparity by altering the appearance of the traditional celluloid swan ornament into a 3D-printed mutated version of it. Of her work, Brown writes: "If DuPont and other companies continue to carelessly dispose of hazardous waste, this strange swan that looks like it lives on an alien planet could become a reality."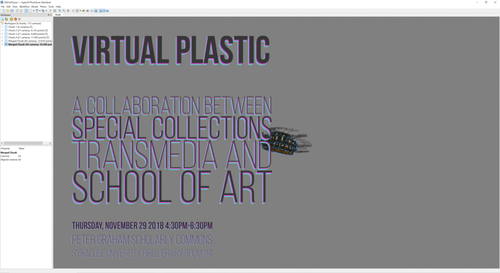 The poster for the "Virtual Plastic" public program and exhibition in SUL's Peter Graham Scholarly Commons.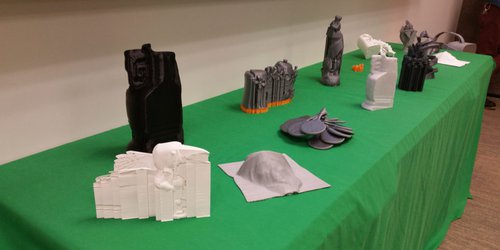 Some of the 3D printed student work on exhibition at the "Virtual Plastic" presentation.
Jacob and I presented the final results of our first-semester collaboration at a public program and exhibition in SUL's Peter Graham Scholarly Commons called "Virtual Plastic." During our presentation, audience participants were able to view the sculptures by wearing Oculus headsets. A variety of 3D printed student work was on exhibition as well. When the academic year was over, it was exciting to reflect on our unusual partnership and how the Plastics Artifacts Collection transformed SCRC's classroom into a space for creativity and active learning with Special Collections materials.
The Plastics Artifacts Collection is part of SCRC's special collection materials (Plastics Artifacts Collection, Special Collections Research Center, Syracuse University Libraries).