150 Years of Tradition Showcased at Syracuse University Exhibition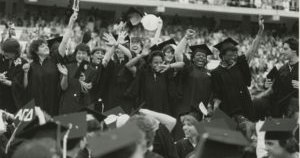 In celebration of Syracuse University's sesquicentennial, Syracuse University Libraries' Special Collections Research Center (SCRC) will open an exhibition on the sixth floor of Bird Library from Sept. 5 through spring 2020 titled "150 Years of Tradition at Syracuse University." Curated by University Archivist Meg Mason, the exhibition commemorates the University's founding through a selection of traditions, customs and ideas that unite the University community and connect the past with the present. The exhibition will be open for public viewing Monday through Friday, 9 a.m. to 5 p.m.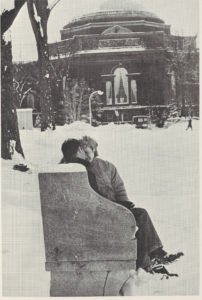 Students on the Kissing Bench from the 1963 Onondagan. Courtesy of Syracuse University Archives.
"This exhibition is an opportunity for our campus, community and visitors to view interesting artifacts, memorabilia and other items that have been carefully curated by Syracuse University's outstanding special collections team. It provides a fascinating look into the origins of many of our traditions and an engaging way to learn from our history," says Chancellor Kent Syverud.
On display will be items from the University Archives—including photographs, printed materials, textiles and other memorabilia—that exemplify a variety of old and new traditions. Visitors will learn about the origins of the University's official color, orange; the Block "S" logo; and the mascot Otto the Orange. Other traditions represented include alumni reunions, Commencement and other events such as the Dr. Martin Luther King Jr. Celebration and Winter Carnival. Beanies and other items related to first-year student traditions will be on display, as well as cheerleading and marching band memorabilia, illustrating traditions that inspire spirit. For limited times (September to October 2019 and March through Commencement 2020),visitors will be able to view two especially rare items from the University Archives: Ernie Davis' No. 44 jersey and the Alma Mater handwritten in author Junius Stevens' hand.
Many special events and tours are planned throughout the run of the exhibition. Mason will provide tours of the exhibition during Orange Central weekend, Sept. 13-14; alumni can register for tours at Orange Central. The exhibition will be also be open for viewing during Family Weekend, Oct. 18-19.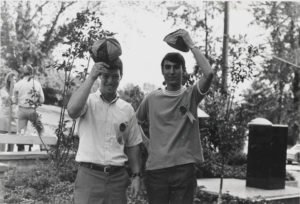 First-year students tipping their beanies, circa 1960s. Courtesy of Syracuse University Archives.
In addition to the primary exhibition in Bird Library, the Syracuse University Libraries will draw from University Archives materials to present additional exhibitions in celebration of the University's sesquicentennial, both on and off campus. These include:
Reproductions from the "150 Years of Tradition at Syracuse University" exhibition on display at Joseph I. Lubin House, home base for the University's New York City operations.
"A Legacy of Leadership: The Chancellors and Presidents of Syracuse University" in the exhibition case on the first floor of Bird Library. This exhibition will provide a glimpse into the administrations of the 12 individuals who have guided the University through its 150-year history. Curated by Vanessa St. Oegger-Menn, assistant University archivist and Pan Am 103 archivist, these documents and photographs from the University Archives chart the ways in which the University has grown and changed, from the institution's first leader, Chancellor Alexander Winchell, to current Chancellor Kent Syverud. It will be available for viewing from September 17, 2019 through spring 2020.
The "150 Years of Tradition at Syracuse University" opening reception will be held at the Robert Ortwine Gallery on the sixth floor of Bird Library on Thursday, Sept. 5, from 4:30 to 6 p.m. Tours may also be provided upon request by contacting the SCRC at scrc@syr.edu or 315.443.2697.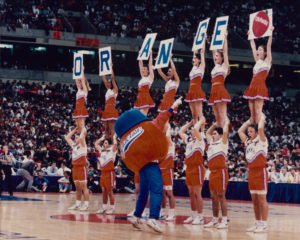 Cheerleaders and Otto on the basketball court in 2000. Courtesy of Syracuse University Archives.