Fall 2018 poetry series, Lunch Time Poems, to begin in Bird Library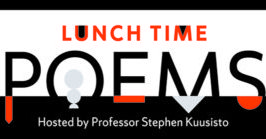 Syracuse University Libraries is once again pleased to announce Lunch Time Poems, a series of free noontime poetry readings running throughout September, October, and November. Hosted by poet Stephen Kuusisto, University Professor and Director of the Burton Blatt Institute for Interdisciplinary Research, the series will feature noted poets from across the region. All events are open to students, staff, faculty, and the general public.
Modeled on a popular program at the University of California at Berkeley, Lunch Time Poems is an informal brown bag event designed, as Kuusisto says, "to offer us some food for thought in the middle of our busy days – just bring your lunch and your appetite for words."
All readings will take place from noon to 1pm in the Peter Graham Scholarly Commons, first floor, Bird Library. Communication Access Real-time Translation (CART) and American Sign Language (ASL) interpretation will be provided, and if you require any additional accommodations please contact Liz Cronkwright at 315.443.2573 or emcronkw@syr.edu.
The series is as follows:
Chris Kennedy and Sarah Harwell: Thursday, September 20
Chard DeNiord: Friday, September 28
Diane Wiener and Kristofor Minta: Friday, October 5
Rainie Oet: Thursday, October 11
Devon Moore: Friday, October 26
Ralph Savarese: Thursday, November 15
Dylan Krieger: Friday, November 30