Biblio Gallery exhibit featuring Staff Sgt. Michael Battles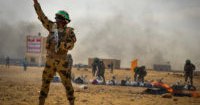 An exhibit by Staff Sgt. Michael Battles, an aerial combat photographer, with the U.S. Air Force will be on display in the Biblio Gallery on the 4th floor of Bird Library.
Sergeant Battles is currently a student in the Military Photojournalism program at Syracuse University's S.I. Newhouse School of Public Communication. Sergeant Battles is 1 of 19 photographers representing the U.S. military in the program this year.
During his deployment he documented both, aerial and ground; combat and support missions in Afghanistan, Iraq, Qatar, Oman, Syria, Jordan, Tajikistan, Kuwait, Egypt and the United Arab Emirates.
In 2016, Sergeant Battles won the military-wide photography competition the 1st Combat Camera ShootOff, and in 2017 won the international photography competition the Defense Media Activity D.C. ShootOff Photojournalism Workshop. Furthermore, Sergeant Battles is the 2018 Air Force Public Affairs Agency's Photojournalism, News and Feature Photographer of the Year.
Sergeant Battles will graduate his ten-month program in May 2019 and return to the U.S. Air Force.
The exhibit will be on display from October 4 – November 1, 2018.
For more information about exhibiting in the Biblio Gallery, contact Ann Skiold at saskiold@syr.edu or the Biblio Gallery exhibition submission.