Forrest J Ackerman Papers Now Open for Research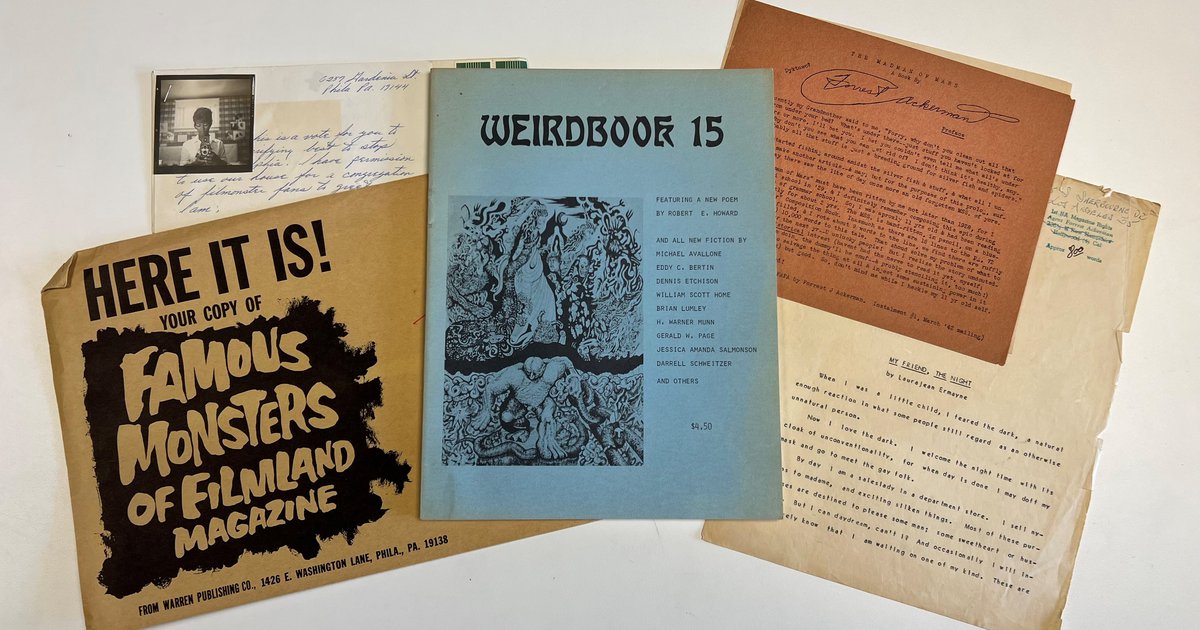 Syracuse University Libraries' Special Collections Research Center (SCRC) is pleased to announce that the processing of the Forrest J Ackerman Papers has been completed and the collection is now open for research. Forrest J Ackerman (1916-2008), American science fiction author, editor, agent, collector and fan, was awarded the "#1 Fan Personality" at the 1953 Hugo Awards and is credited with coining the term "sci-fi" in 1955. He wrote for some of the earliest science fiction fanzines and advocated for wider recognition of the genre through his own writing, as well as in his work as a magazine editor and a literary agent. Represented within the collection in over seven hundred archival boxes are approximately three thousand individual correspondences, including notable science fiction writers Isaac Asimov, Ray Bradbury and Andre Norton. Also included in the collection are over one thousand unique fanzine titles, as well as stories, novels and non-fiction works by Ackerman and many others. Explore the contents of the Forrest J Ackerman Papers through the online finding aid available on the Libraries website.
"The Forrest J Ackerman Papers will be of great interest to those researching in fields including material culture, print culture, the development of fandom and participatory culture, and especially the literary and film genres of science fiction, fantasy and horror" states SCRC's Curator of 20th century to present, Daniel Sarmiento. Sarmiento also notes that the broad range of materials within this collection, including memorabilia, correspondence, fanzines, photographs, video recordings and artifacts, will make for exciting instructional opportunities and classroom discussion.
The completion of the seven year-long intensive archival processing project was made possible in part by a $17,000 grant in 2021-2022 from the Gladys Krieble Delmas Foundation. "Financial support from the Delmas Foundation enabled graduate students from Syracuse University's School of Information Studies and those in the Art History and Museum Studies programs gain direct, hands-on archival experience completing the processing of this substantial collection. These students will forever have a role in making these rare and unique materials available to Syracuse University students, staff, faculty and the local and global communities," says SCRC Director, Nicolette A. Dobrowolski.
SCRC has strong collection holdings in the area of pulp literature and science fiction. SCRC hours and visitor information can be found online.
About Special Collections Research Center and Syracuse University Libraries:
Syracuse University Libraries' Special Collections Research Center collects, preserves and provides access to materials that document the history of Syracuse University and our global society, including rare printed materials, original manuscripts, photographs, artworks, audio and moving image recordings, University records and more. Collection areas include activism and social reform, radicalism in the arts, architecture and industrial design, photography, the history of recorded sound and more. Located on the 6th floor of Bird Library, the SCRC is a vibrant research and learning environment for Syracuse University students, faculty and the broader scholarly community, providing access to world-renowned rare and archival collections and expert guidance in their use to facilitate personal discovery and the creation of new knowledge.