In Memoriam: Alexander N. Charters (1916–2018)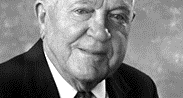 Alexander N. Charters, Syracuse University professor in the School of Education from 1952–1984 (professor emeritus 1985–2018), past dean of University College (1952–1964), vice president for Continuing Education (1964–1973), and passionate advocate for adult education, passed away on August 7.
It is almost exactly two years ago to the day that Charters' 100th birthday was celebrated with a lively party in Bird Library. Many of Charters' friends, family, and colleagues attended. In his celebratory remarks, Chancellor Kent Syverud commented on how profound an impact Alex had on our University, in our Libraries, and on generations of educators.
Alex Charters first joined University College in 1948 and his impact on adult and continuing education remains significant today.
"His legacy and commitment to non-traditional learners continues to be expressed every day at University College," says Michael J. Frasciello, dean of University College. "The student service philosophy he developed more than 50 years ago informs all that we do—start with the students and end only when they succeed."
In 1949 he began to build what is today one of the largest compilations of materials in the field of adult and continuing education: The Alexander N. Charters Library for Educators of Adults.
"Alex's Library is a testament to his 68 years of deep commitment to his discipline, containing books, audio and video items, and many sets of personal papers and organizational records from practitioners in the field," says David Seaman, Dean of Libraries and University Librarian. "We will miss his engagement with the SU Libraries."
Alex Charters remained actively engaged in building and promoting the materials, and in funding scholarships to encourage their use, throughout his life.
Members of the Syracuse University community will remember Alex Charters for his kindness, passion for his work and his humanity.