Biblio Gallery Exhibit: Land Art Generator Initiative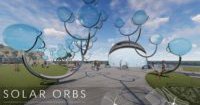 This project was part of a landscape architecture design studio at the State University of New York College of Environmental Science and Forestry (SUNY ESF). Led by Professor Anne Godfrey, a mix of undergraduate and graduate students collaborated to create submissions to the Land Art Generator Initiative Biennial Competition.
The Land Art Generator Initiative (LAGI) works with the goal of transitioning to a post-carbon economy by providing models of renewable energy infrastructure that add value to public space, inspire, and educate – all while providing power to thousands of homes around the world.
Every two years, LAGI hosts an international design competition seeking a site-specific design that will reflect the nature of energy infrastructures and what they can aspire to be in their built form. The designs are meant to enhance the public space while educating and inspiring the people who interact with them. Thousands of participants from over 60 countries submit projects to LAGI during each competition.
The baseline requirements for the competition are to create a large-scale public art installation that will capture clean energy from nature and convert it to electricity to be transmitted to the grid. For this competition, the site was the St. Kilda Triangle in Melbourne, Australia.
Each project centered around a public art installation that was interactive, exciting, and captured clean energy from the natural systems of the site. By combining multiple technologies to maximize productivity and drawing inspiration from the site itself, the projects showcased systems-thinking, creativity, and innovation.
Among thousands of submissions from all over the world, Solar Orbs and Soundscape were shortlisted in the Top 25 of the competition. All four of these projects can be seen published in Energy Overlays (Hirmer 2018).
Urban Ecology & Design Studio, Spring 2018 | Anne C. Godfrey
CONEXUS
Jenna Ergort, Sabrina Hegenbarth-Jüdes, Scott Knaak, Jordan Mueller, Sujay Parab
SEA FOREST
Jennifer Lauer, Patricia McNeil, Rui Fang, Keenan Gardner
SOLAR ORBS
Kaitlin Campbell, Chad Grevelding, Bridget Snover, Kyle Stillwell
SOUNDSCAPE
Patrick Alexander, Eric Bischof, Ryan Mackerer, Jordan Pulling
For more information about exhibiting in the Biblio Gallery, contact Ann Skiold at saskiold@syr.edu or complete the Biblio Gallery exhibition submission.