VPA School of Design Students win Syracuse University ACC InVenture Prize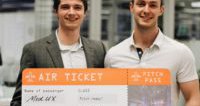 A group of prominent judges, including investors, technologists, funders, and successful entrepreneurs, selected College of Visual and Performing Arts School of Design students Quinn King (left) and Alec Gillinder (right) as winners of the prestigious ACC InVenture Prize at Syracuse University.  The senior industrial and interaction design students won the award for an invention developed by MedUX, a medical product design and research firm they founded to create innovative solutions for inpatient, at home, and mobile care. Their first invention, a lightweight, wearable, portable IV system will allow patients to receive intravenous treatment quickly and efficiently while still keeping them mobile.  It is very useful in hospital settings, stand-alone infusion centers, and home palliative care where a patient might need intravenous delivery and wants to be mobile.
They initially conceived the concept and first prototype in Invent@SU, where they won first place in summer 2018.  Over this academic year, they further developed the product and business model working with the Blackstone LaunchPad powered by Techstars at Syracuse University Libraries, along with mentors and industry experts.  After being selected "SU's top innovators" in the campus competition, they will now be competing against student teams from other ACC member institutions, "Shark Tank," style in the finals of the 4th annual ACC Inventure Prize Competition April 16-17 in Raleigh, North Carolina.
"Medical products are often only designed for function and lack the consideration for the users' needs," says King. "The medical field is always evolving, and there is a need for better designed and considered products. Our company is flipping the approach of how to consider medical healthcare design."
"Healthcare needs to consider patients as customers," adds Gillinder. "Patients want mobility, more personal control, and health care providers want more innovative solutions."
The team hopes to put their UX perspective as design students to work designing develop a line of products that are considerate of the user, ergonomics, and effective function.  "We will be delivering products to our target market that help solve user needs," says King. "Our company will accomplish this through extensive customer discovery with medical staff and patients to understand the problem and devise optimal solutions."
The team is pursuing milestones that include completing patent work, and seeking strategic partners.  They are already working with top experts and inventors in the medical device field on piloting their concept.  They are also being mentored by other experts, including VPA alumnus Gianfranco Zaccai, co-founder of Continuum, who is a design pioneer who is known for championing a holistic and highly integrated approach to innovation research, design, and development.
The ACC InVenture Prize is coordinated at Syracuse University by the Blackstone LaunchPad.  Last week's campus competition featured top Syracuse University inventors, including (in alphabetical order):  Alec Gillinder and Quinn King, MedUX; Angelica O'Hare, Prioritage; Brianna Howard and Nikita Chatterjee, Paani; Caleb Obiagwu, SYRE Tech LLC; Daniel McMurray, SWIP; Emma Sargent, C29; Jaclyn Hingre, Halo; Jianqiu Jiang, Watson FitPet; Josh Jackson, Promptous; Matt Shumer, OptechVR; Michael Yacubov, Compress-Aid; Patrick Riolo, Artemis Wand; Peter Mignacca, TowelVAC; and Teodoro Delellis, GiraTech.
Judges included:  Dan Rickman, U.S. Small Business Administration; Danielle Taana Smith, Renee Crown Honors Program; James Capparelli, Gardner and Capparelli CPAs; John Sangardten, M&T Bank; John Spatola, Lake Effect Applications; Lisa Spatola, Lake Effect Applications; Matt Gardner, Gardner and Capparelli CPAs; Ryan York, Pinnacle Investments; Scott Henry, Motion Leap; and Somak Chattopadhyay , Armory Square Ventures.
Prioritage was selected by the judges as the 2019 Syracuse University first alternate.
The MedUX team will be traveling to the championship finals with its Syracuse University coach, Linda Dickerson Hartsock, executive director of the Blackstone LaunchPad powered by Techstars.  They will compete against teams from Boston College, Clemson University, Duke University, Georgia Institute of Technology, North Carolina State University, the University of Louisville, the University of Miami, the University of North Carolina, the University of Notre Dame, the University of Pittsburgh, the University of Virginia, Virginia Polytechnic Institute and State University, and Wake Forest University.
During the two rounds of the competition at NC State, judges will evaluate each team on their quality of idea, business model, entrepreneurship and probability of success. The final round will be broadcast live by PBS affiliates along the East Coast. While in Raleigh, student participants will engage in a variety of innovation and startup activities and will present their work following the final competition to audience members, the public and potential investors.
To learn more about the ACC InVenture Prize, visit accinventureprize.com/.