Libraries' study room bookings move online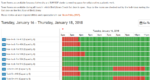 Syracuse University and ESF-affiliated students can now book study rooms in Bird and Carnegie libraries through an online reservation system, available on the web 24/7.
The new self-service system shows real-time room availability and can be used for immediate bookings or for future dates and times. Room bookings are confirmed via email.
Those with confirmed bookings and a current SU or ESF I.D. can sign out room keys from the first floor Check Out Desk in Bird Library and the second floor Information Desk in Carnegie.
For more information on Student Study Rooms in the Libraries, visit Reserve a Room.