Student venture Ravle advances to semi-final round of Student Startup Madness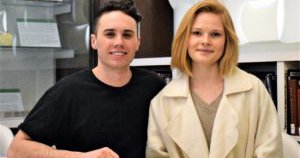 Student startup Ravle, founded by Syracuse University students Tay Lotte '19 (Creative Leadership, University College) and Kevin Rieck '19 (Knowledge Management, University College), has been selected to advance to the semi-final round of the 2017-2018 Student Startup Madness Tournament, held at South by Southwest (SXSW) in Austin, Texas in March. They will compete against 31 other digital media, product, and service startups from 29 colleges across the nation for a spot in the tournament's final round.
Ravle is a digital travel platform and filmmaking collective that engages travel filmmakers to turn beautifully filmed travelogues into mapped itineraries and personal travel guides to such destinations as the Australian Outback, Vancouver Island, Iceland, and unique places like Ladakh, India, Bangkok, and Nara, Japan.
Lotte and Rieck launched their venture in February 2017 and went on to win second prize in the Whitman School's 2017 Panasci Business Plan Competition, securing $7,500 in funding to kick-start their venture. Since then, they have assembled a team of developers and launched the Ravle website in September 2017.
"Our goal is not just to inspire others to get out and explore, but to give travelers the tools they need to plan an adventure that will change the way they experience the world," says Lotte, who is also Ravle's head designer. "Our filmmakers share a common drive to travel to new destinations or seek out hidden gems. They have a sixth sense for finding cool places that others do not often see."
"We were so excited to make it to the semi-final round because this is a prominent national competition with a massive pool of applicants. We are working on getting brand sponsorships for upcoming trips by our filmmakers, and are hopeful that our growth will help us be selected for the final round," said Rieck.
The Ravle team developed their venture with the support from the Blackstone LaunchPad at Bird Library.  They received mentorship to refine their business strategy, establish themselves as a legal entity, and connect to other student entrepreneurs with the skills they need to grow their team.
Student Startup Madness (SSM) is the only nationwide collegiate tournament focused on digital media startups. Sean Branagan, founder of the Student Startup Madness Tournament, and director of the Center for Digital Media Entrepreneurship at the Newhouse School, believes that Ravle is among a highly competitive selection of teams that "are the best college digital media startups in the country."