New Intelligence++ Ventures Initiative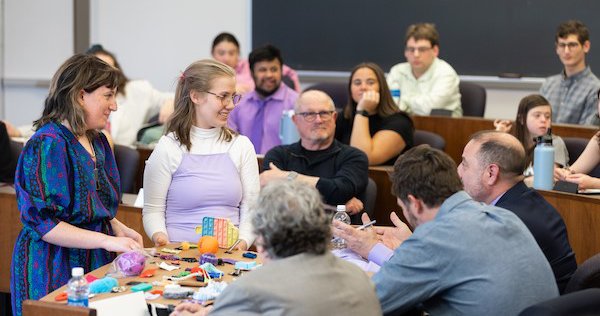 Syracuse University Libraries is launching a new Intelligence++ Ventures initiative, thanks to a generous donation from Gianfranco Zaccai '70 H'09 and the Zaccai Foundation for Augmented Intelligence (Intelligence++™). The Intelligence++ Ventures initiative is an extension of the Intelligence++ program that launched in the Fall of 2020 in Syracuse University Libraries' Blackstone LaunchPad, in partnership with the Taishoff Center for Inclusive Higher Education (InclusiveU) and the College of Visual and Performing Arts (VPA). The Intelligence++ program included a two-semester inclusive entrepreneurship and design course, DES 400/600, that encourages students from across campus to imagine and create products, devices and services for persons with disabilities. The Intelligence++ Ventures initiative extends the program to provide funding to commercialize products and services to support people with intellectual disabilities. It emphasizes interdisciplinary and collaborative technological, educational and organizational innovation to enable and empower individuals with intellectual disabilities, their families and their communities.
"The Intelligence++ Ventures initiative is a concept to assist student research initiatives emerging from the Intelligence++ program or other campus innovation programs. The initiative helps move student research, scholarly or creative projects from ideation to proof of concept and commercialization," said David Seaman, Dean of the Libraries and University Librarian. "Students can come from any school or college and need not take DES 400/600 to apply. In fact, students with an idea for the intellectual disability community could apply for this initiative in addition to funds the Libraries administers, like the Orange Innovation Fund or the Student Innovation Fund."
The program will be administered through Syracuse University Libraries, in collaboration with the University's existing research and commercialization programs such as the SOURCE, the Blackstone LaunchPad, Invent@SU, NEXIS, the Innovation Law Center, the NSF Innovation Corps (I-Corps) program at Syracuse, Intelligence ++, Syracuse Center of Excellence (CoE) in Environmental Energy Systems, CASE at Syracuse University (NYSTAR designated Center for Advanced Technology), and the D'Aniello Institute for Veterans and Military Families (IVMF). Applicants can also come through research classes, labs, or independent study programs across campus.
Applicants must identify specific tangible needs related to the development of a product, service, technology or creative work in the discovery, testing, building and/or launching of their initiative. Applications can be submitted through orangeinnovation@syr.edu.
"I am pleased to continue to support this important program and enhance it through the creation of Intelligence++ Ventures, a new competitive program for student innovators to help commercialize products, services and technologies that will help people with intellectual disabilities," said Zaccai. "This initiative can accelerate the transfer of inclusive design research to the marketplace. It will help students create innovations that can be used by early customers, get real world feedback on product design, and introduce products to the people who will benefit from their ingenuity."
Zaccai envisions the initiative attracting even more students from across academic disciplines who are interested in pursuing design and development focused on breaking down barriers to accessibility. "From AI to digital and other emerging technologies, this field is poised for rapid growth," said Zaccai. "Participating students can become part of the leading edge."