Special Collections Research Center Awards Its Two Faculty Fellows Grants for 2024-25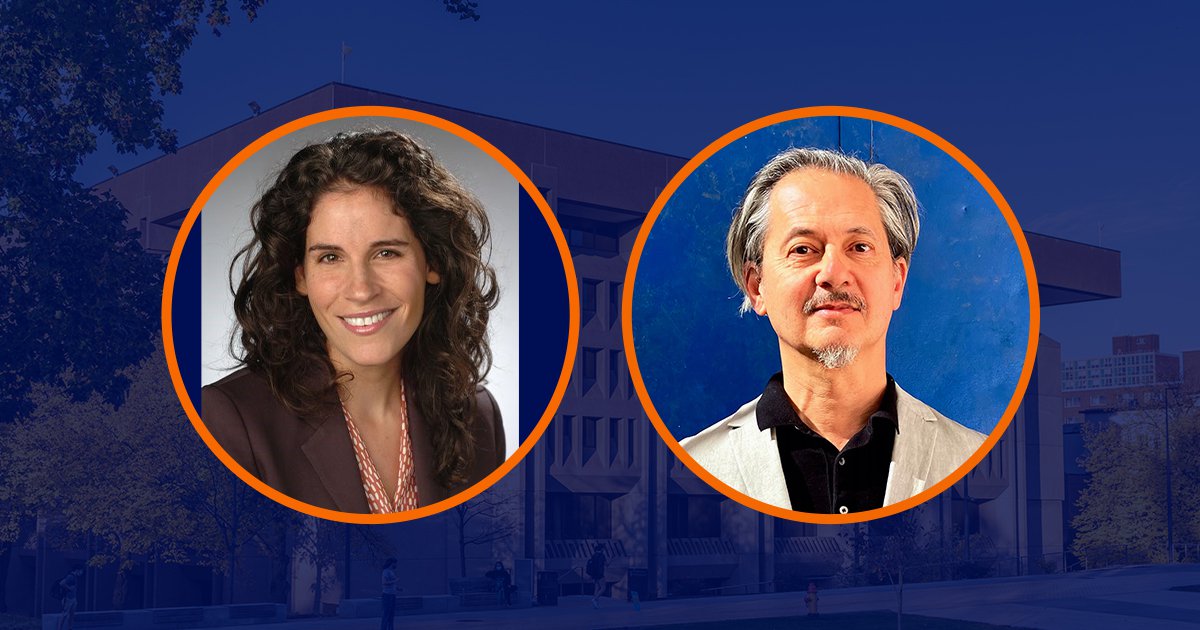 Syracuse University Libraries' Special Collections Research Center (SCRC) has awarded its two Faculty Fellows grants for the 2024-2025 academic year. Stephanie Shirilan, Associate Professor of English and Textual Studies, and Lawrence Chua, Associate Professor in the School of Architecture, have each committed to a four-week summer residency in 2025 at SCRC that includes workshops and training sessions on handling special collections materials, teaching students how to research within and across collections, and designing hands-on, individualized, creative and critically-minded assignments with rare materials. The fellows, who applied and were selected by a committee of librarians, curators and faculty, will use what they learned and the materials from SCRC to teach newly developed courses the following year.
Shirilan's course Shakespeare's Natural Worlds (ETS 421) will explore ways that the environmental humanities, and the study of the environmental and literary past, can offer powerful humanist tools for responding to ecological crisis in the present and future. By considering what it means to treat Shakespeare's writings as an archive through which to conduct more inclusive historiography, students will endeavor to reimagine what it means to restore and preserve them through more public, interactive, creative, and critical use in their projects—taking their work outside of the classroom and on to and across campus, as well as into digital spaces and places to broader audiences. In doing so, students will reflect on the ecology of ideas, from germination and proliferation to stewardship and care, to their lifecycles and legacies, exploring contexts of their creation and how they thrive (or not) in contexts across space, place, time and situation.
Chua's Queering the Map (ARC 432) course will ask students to reconstruct historic communities and neighborhoods that appear lost, missing, or invisible by reading archival material against the grain to map out the spaces in which LGBTQ+ citizens of Syracuse made place and community. Utilizing SCRC collections in conversation with oral histories and surveys of the built environment/landscape of the present and the past, students will explore the complex relationships between personal memory and desire and collective history and action. Through a public-facing, collaborative story map project, students will represent the ways LGBTQ+ people have historically found one another and created communities of resistance by sharing the voices and stories they've gathered and co-constructed.
Dr. Shirilan and Dr. Chua are challenging how academic discourse is created and perpetuated not only in their own scholarship, but in their approaches to how they engage students in their own creative-critical work. They don't just enter spaces and concepts theoretically with students, but in their methodological approach to creating and disrupting established ways of knowing.
SCRC Instruction and Education Librarian, Jana Rosinski, noted: "We are excited for students' research to engage public audiences in the crucial work of understanding our current social, political and cultural constructs/constructions as extensions of the past—the things that took place or were prevented, the voices amplified or silenced, the fruition or destruction of ideas; everything in our current moment has a context that can be uncovered."
Syracuse University Libraries' SCRC Faculty Fellows Program aims to support innovative curriculum development and foster new ideas about how to transform the role of special collections in University instruction. Each fellow receives a $5,000 payment along with guidance on how to provide students with a unique opportunity to research, analyze and interpret SCRC's primary source materials in their class, and ongoing course support.
George Bain G'06, a member of the Library Associates, provided generous gift funding towards the Faculty Fellows in 2022-2023. Original funding for the SCRC Faculty Fellows Program was made possible through the Gladys Krieble Delmas Foundation, which promotes the advancement and perpetuation of humanistic inquiry and artistic creativity by encouraging excellence in scholarship and in the performing arts, and by supporting research libraries and other institutions that transmit our cultural heritage.
SCRC will be hosting an information session on the Faculty Fellows program, for those interested in learning more about it from former Faculty Fellows on November 10 at 10 a.m. To learn more about teaching with SCRC, contact Jana Rosinski, SCRC's Instruction and Education Librarian at jrosinsk@syr.edu. For more information about how to financially support a faculty fellow for the 2024-25 academic year and beyond, contact Ron Thiele at rlthiele@syr.edu or 315.560.9419.