Syracuse University Celebrates First-Generation Day on November 8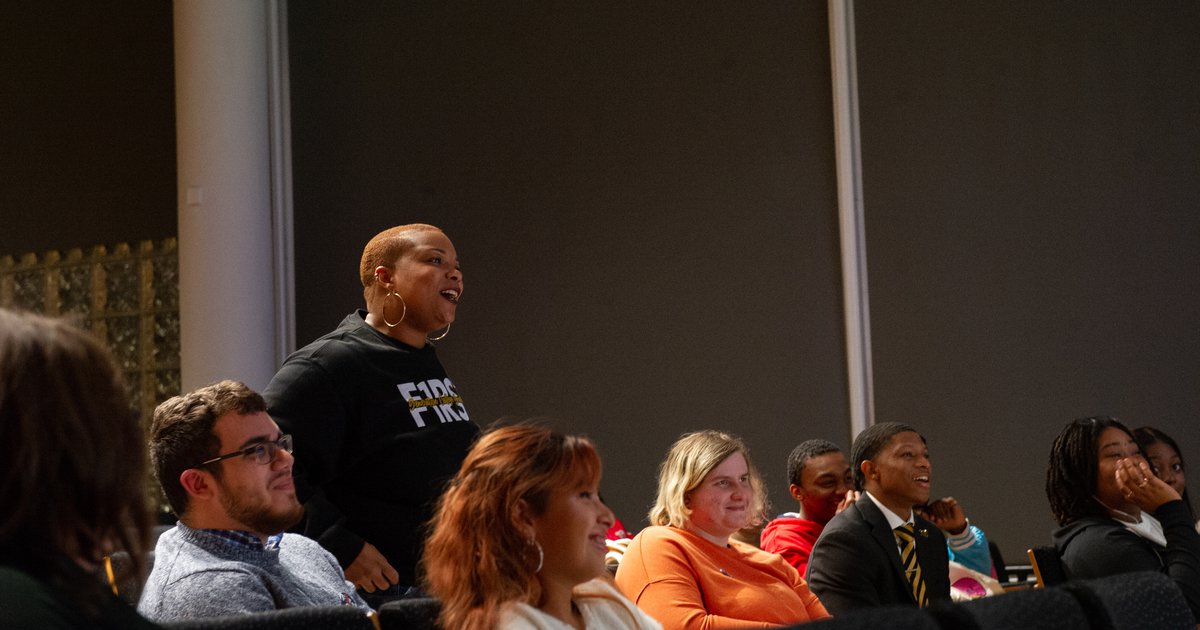 National First-Generation College Celebration on November 8 provides an opportunity to celebrate first-generation students whose parents have not attended a higher education institution. The Syracuse University campus community is invited to participate in several events being held on November 8 in Bird Library, including:
A drop-in affinity space for first year and transfer students from 4 – 5:30 p.m. in the First Year Seminar office, Bird Library Room 238
A live audience podcast recording of "First Generation College Celebration 2023: A Follow-up to First Gen Voices at SU." The original participants of the podcast "First Generation College Celebration 2022: First Gen Voices at Syracuse University" is returning to reflect on the initial conversation that was recorded in October 2022 in The SENSES Project Podcast Room. Since October 2022, this podcast has been listened to over 3,400 times, in large part because it was included in the fall 2023 FYS 101 curriculum on Inclusion and Belonging. The university community is invited to join a follow-up discussion on what it's like being first generation student at Syracuse University from 5:30 – 6:30 p.m. in Bird Library Peter Graham Scholarly Commons (Room 114).
A panel discussion featuring first-generation alumnus Tianna Carrington '19, Graduate Admissions Specialist College of Engineering and Computer Science; higher education administrator Chandice Haste-Jackson, Associate Dean of Student Services and Associate Teaching Professor in the David B. Falk College of Sport and Human Dynamics; associate professor of Writing and Rhetoric Brice Nordquist, College of Arts and Sciences' Dean's Professor of Community Engagement; and current graduate student Jordan Pierre '23 S.I. Newhouse School of Public Communications. The panel will be moderated by Ashlyn Garcia, a Kessler Scholar second-year undergraduate student in College of Visual and Performing Arts, Kessler Scholar and Orientation Leader. The panel will take place from 6:30 – 7:30 p.m., followed by a reception, in Bird Library Room 114.
National First-Generation College Celebration is celebrated annually on November 8 to mark the anniversary of the signing of the Higher Education Act of 1965. The act provides equal opportunity for those from low-income and minority backgrounds. The legislation creates grants and loan programs, invests in higher education institutions, and started the Federal TRIO Programs (TRIO) to facilitate the academic success of first-generation college students.
Syracuse University's First-Generation College Celebration Day is being organized by the Higher Education Opportunity Program (HEOP), Student Support Services (SSS), the Kessler Scholars Program, Intercultural Collective, First Year Seminar, New Student Programs, Student Affairs, Office of Diversity and Inclusion, and Syracuse University Libraries.
"We are excited to continue a long-standing tradition of celebrating not only our first generation undergraduate and graduate students on campus," said Carlota Deseda-Coon, Director of the Kessler Scholars Program and the First Gen Day planning committee chair, "but those who completed their higher education aspirations and are now Syracuse University staff, faculty and alumni. The committee's goal is to uplift and celebrate the voices and experiences of our first-generation community, provide space and a forum to make connections."
New Student Programs maintains the First-Generation Faculty and Staff List for those who self-identify as first-generation college students. The list serves a visual representation of faculty and staff dedication to helping current first-generation college students build their personal success networks and their eagerness to help grow a campus of support. Students are encouraged to connect with faculty and staff members who can share their personal journeys, insight and support throughout this unique student experience.