"StoryCorps" to feature SU alumna Dr. Sharon Brangman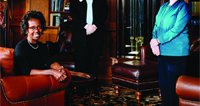 Physician and prominent Syracuse University alumna Dr. Sharon Brangman '77 and her daughter Dr. Jenna Lester are the subject of a StoryCorps interview, to be broadcast on NPR's Morning Edition on Friday, January 26 at 6:20 a.m. and 8:20 a.m. EST.
This interview is a result of Triple Triumph: Three Women in Medicine, an open access book conceived and edited by Syracuse University professors Cathryn Newton and Samuel Gorovitz. The book includes profiles of Dr. Brangman, Dr. Patricia Numann, and Dr. Ruth Weinstock, pioneering women doctors at SUNY Upstate Medical University, written by Danielle Roth '16, with photographs by Drew Osumi '16, both Newhouse grads. Following her work on Triple Triumph, Danielle Roth interned with StoryCorps  where she pitched and produced the story on Brangman and Lester.
"We are proud that Dr. Brangman's scientific and medical career began at Syracuse when she was an undergraduate—and are especially proud to have collaborated with her on Triple Triumph. Her daughter Dr. Jenna Lester is a highly accomplished scientist and physician, as well. We hope all friends of Syracuse University tune in to hear their story tomorrow," says Newton.
StoryCorps is an independent nonprofit project whose mission is to honor and celebrate the lives of everyday Americans by capturing their stories. StoryCorps interviews are archived at the American Folklife Center at the Library of Congress for future generations to hear.
The piece will be available on NPR's website and on the StoryCorps site. Find your local NPR station in this directory.
Triple Triumph was published in September 2017 by Syracuse Unbound, a joint imprint of Syracuse University Press and Syracuse University Libraries. To date, it has been downloaded 2,755 times from 25 countries.