Textile conservator Deborah Lee Trupin to give annual Brodsky Lecture on April 11 in Bird Library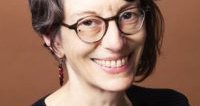 Deborah Lee Trupin, textile and upholstery conservator, will give the lecture A Tal e of Two Flags: How History of Treatment and Ownership Affected Conservation Treatment of Two Early Nineteenth-Century American Flags on Thursday, April 11, 2019 from 2:00–3:30 p.m. in the Peter Graham Scholarly Commons, 114 Bird Library. The lecture will be preceded by an interactive workshop, Textile Identification, Inspection, and Recommendations for Proper Housing and Treatment, from 9:00 a.m. –12:00 p.m. in the Lemke Seminar Room, Special Collections Research Center, 6th floor, Bird Library.
The lecture and workshop are open to the public, however there is limited space available for the workshop; please RSVP to jschambe@syr.edu if you are interested in attending the workshop.
The event is the 2019 offering of the annual Brodsky Series for the Advancement of Library Conservation. The series is endowed through a generous gift by William J. '65, G' 68 and Joan Brodsky '67, G'68 of Chicago. Beginning in 2004, the endowment has been used to sponsor programs that promote and advance knowledge of library conservation theory, practice, and application among wide audiences, both on campus and in the region. Programs typically include lectures and workshops by prominent library conservators.
Between 1995 and 2006, Deborah Trupin led a team of textile conservators at the New York State Office of Parks, Recreation and Historic Preservation (OPRHP) in the conservation treatment of two rare, early 19th-century flags: the 1809 Fort Niagara Garrison flag and the 1813 'Don't give up the ship' flag from the United States Naval Academy. Trupin's lecture will address the treatment of these two historic flags, including cleaning, removal of past treatments, and preparation of these large textile objects for long-term exhibition. The interactive workshop will cover the basics of textile identification, agents of deterioration, care and storage, preventive conservation and collection management issues.
Deborah Trupin, principal of Trupin Conservation Services, has over 35 years of experience in textile conservation. From 1986 to 2015, she was Textile and Upholstery Conservator for the New York State Office of Parks, Recreation and Historic Preservation's Bureau of Historic Sites (Peebles Island) in Waterford, NY, where she was responsible for the conservation of the textile and upholstery collections of the 35 state‑run historic sites, and supervised the New York State Battle Flag Preservation Project. She is an assistant adjunct professor in FIT's Fashion and Textiles Studies MA program. Her main interests in conservation include preventive conservation, tapestries, upholstered furniture, flags, historic house museum issues, and the history of conservation/restoration. Trupin is a Fellow of the American Institute for Conservation and serves on their Board.
Communication Access Realtime Translation (CART) will be available for this event. For more information, or if you need an accommodation in order to fully participate in this event, please contact Julia Chambers at jschambe@syr.edu by March 27.