New York Imprints: Well Beyond New York City
Special Collections Research Center
Page featured image content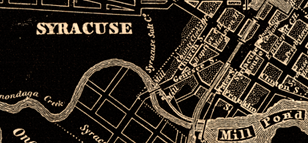 Page main body content
Bird Library
05-18-2009 to 09-03-2009
For many years, the Special Collections Research Center at Syracuse University Libraries has collected examples of upstate New York printing from the late 18th and early 19th centuries. In the late 18th century, when impenetrable forests covered much of upstate New York, communities formed near the Hudson and Mohawk rivers and, later, the canals. As these communities grew, they established schools, businesses, churches, and other institutions, all of which created a demand for local printing. The relatively simple and portable printing presses then available were transported along those same waterways; and through their products one can trace the cultural and technological development of upstate New York.
Newspapers were typically the first items brought to a new locale. In order to supplement their income from newspapers, however, printers undertook other printing, such as business and legal forms; blank books; and pamphlets of a religious, educational, or even a sensational nature. These were followed by full monographs on a wide range of topics. All of these forms are represented in the exhibit.
The exhibit features some of the earliest newspapers printed in the state; scarce pamphlets about sensational murders; a broadside concerning the development of salt works in Syracuse; textbooks on spelling, geography, elocution, and logic; the first edition of The Book of Mormon; and the second iteration of Frederick Douglass's memoir, My Bondage and My Freedom. This 1855 book was printed in Auburn, New York, then the fourth largest printing location in the United States. Other upstate cities and towns represented include Catskill, Hudson, Albany, Troy, Lansingburgh, Balston Spa, Caldwell, Salem, Saratoga Springs, Schoharie, Cooperstown, Hartwick, Hamilton, Cazenovia, Manlius, Onondaga, Syracuse, Auburn, Geneva, Plattsburgh, Watertown, Potsdam, Canandaigua, Palmyra, Rochester, and Bath.
Read more about New York State History and Ephemera Collections at the SCRC
Read more about the Illustration, Printing and Publishing at the SCRC