Crouse College of Fine Arts
Special Collections Research Center
Page featured image content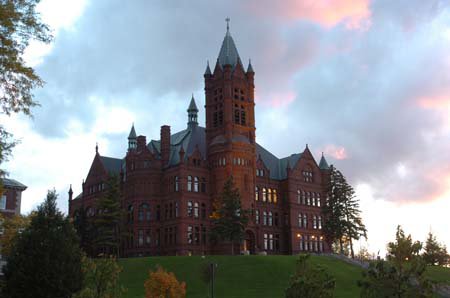 Crouse College, SU Photo & Imaging RS 8065
Page main body content
Plans for Building Approved By Mr. Crouse: Fall 1887
Construction Began: January 1, 1888
Cornerstone Laid: June 6, 1888
Dedicated: September 18, 1889
Named for: John Crouse, banker and businessman, SU trustee 1870 until his death in 1889
Cost of Building: approximately $500,000
Funding: John Crouse
Style: Romanesque Revival with High Victorian Gothic details
Architect: Archimedes Russell
Builder: Norcross Brothers, Worcester, MA
Materials: Longmeadow brownstone (sandstone ashlar) with granite foundation
Space: 162' x 190', 4 stories
Location: Crouse Drive, southwest of Maxwell and Eggers Halls
Exterior Renovation: 2001-2003
Notes: Built through the generosity of John Crouse, a Syracuse wholesale grocer, banker trustee of SU from its founding until his death in 1889, Mr. Crouse selected the building site and oversaw its construction. Originally named John Crouse Memorial College for Women, it was intended as a memorial to Crouse's late wife; the title was engraved above the main entrance. Unfortunately, Mr. Crouse died prior to the building's completion. His son, D. Edgar Crouse, immediately completed the structure, furnishings and grounds work. The exterior featured relief carvings including musical instruments and an artist's palette over the front entrance. Four decorative chimneys and a bell tower rose above a hip and gable slate roof.
The interior featured a carved wooden staircase leading to a 700-seat auditorium, originally intended as a chapel, with a medieval church motif. An organ costing $15,000 was donated by John Crouse. Originally built in 1889 by Frank Roosevelt, the organ was rebuilt by Estey Organ Co. of Vermont in 1924 and again in 1950 by Walter Holtkamp. The building's original stained glass windows were created by Henry Keck, a Syracuse craftsman trained by Louis Comfort Tiffany. In 1970 additional stained glass pieces were installed in celebration of SU's centennial. The bell tower housed the first tower chimes installed in Syracuse. Ten bells costing $5,000 and manufactured by Clinton Meneely Bell Co., Troy, NY, were donated by John Crouse.
Crouse College was placed on the National Register of Historic Places in 1974.