Haven Hall
Special Collections Research Center
Page featured image content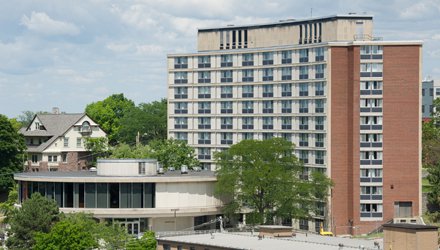 Haven Hall, SU Photo & Imaging RS 41094
Page main body content
Haven Hall Dormitory for Women
Ground Broken: March 1963
Occupied: September 1964
Dedicated: November 13, 1964
Named for: Rev. Erastus O. Haven, second Chancellor of SU, 1874-1880
Estimated Cost: $3.48 Million
Location: 400 Comstock Avenue
Contractor: Dygert Construction
Landscape Architect: Noreda Rotunno
Architect: King and King Architects
Materials: Red brick facing; limestone trim
Interior Decoration: Ralph Laidlaw
Notes: Haven Hall Dormitory was built to house 405 female students, nine head residents and a director. It was named in honor of the Rev. Erastus O. Haven, second Chancellor of Syracuse University, who served from 1874-1880. This Haven Hall was actually the second dormitory for women named after Chancellor Haven; the first structure, built in 1904, was demolished in 1963 to make way for Newhouse I.
Now housing both male and female students, the building is curved and has an attached circular wing which includes a 400-seat dining hall. It has eight floors above the ground on the Comstock Avenue side and eleven floors on the west side. Haven Hall also contains a large first-floor lobby, main lounge and recreation room, registration desk, family room and a reading room. The twelfth-floor penthouse has a lounge-social room with adjacent kitchenette. A typical floor in the dormitory's original configuration had 16 single rooms, 13 divided double rooms, a triple room and a room for the head resident.
Haven Hall was refurbished in 1995 and its dining area was renovated in the summer of 1997 via the installation of new tables and seating, new lighting, added televisions and a new entrance.
In 2009 with the opening of Ernie Davis dormitory, the circular Haven Hall dining facility closed. In 2014 the area became a study area for students.