Huntington Beard Crouse Hall (HBC)
Special Collections Research Center
Page featured image content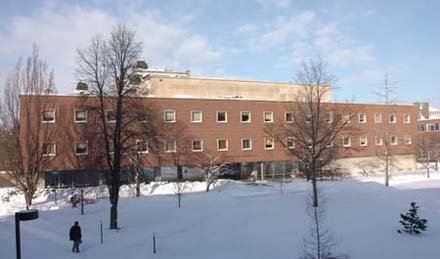 Huntington Beard Crouse Hall (HBC), SU Photo & Imaging RS 10378
Page main body content
Construction Began: September 1960
Building Occupied: November 13, 1961
Dedicated: October 22, 1962
Dedication Speaker: Chancellor William P. Tolley
Named for: Syracuse Industrialist Huntington B. Crouse, former president of the Crouse Hinds Company
Cost: $1,622,000
Funding: Rosamond Gifford Charitable Corporation ($100,000), SS. Kresge Foundation of Detroit ($100,000) Crouse-Hinds Foundation, Mrs. Thomas J. Watson, and Mrs. Huntington B. Crouse
Architects: King and King Architects
Materials: Red brick with limestone trim
Location: East of Hinds Hall, south of Hall of Languages, on Main Campus
Space: At the time of its dedication, the building contained faculty offices, electronic classrooms, the 442-seat Gifford auditorium, the 218-seat Kittridge lecture hall, and state-of-the-art foreign language laboratories.
Notes: The first entirely air-conditioned building on campus. Mrs. Huntington B. Crouse was on hand for the dedication and was presented with a gold key to the building by Chancellor William P. Tolley. A weeklong dedication celebration with the theme, "Humanities and a Technological World" was held, including lectures by August Heckscher, special White House consultant on the Arts; novelist Bernard Malamud; and Sir Edouard Morot, cultural counselor to the French Embassy. Morot was given an honorary degree.
In October 1967 a 60' x 20' mosaic mural representing the famous Sacco-Vanzetti case designed by artist Ben Shahn and executed by Gabriel Loire was added.