Inn Complete (Ski Lodge)
Special Collections Research Center
Page featured image content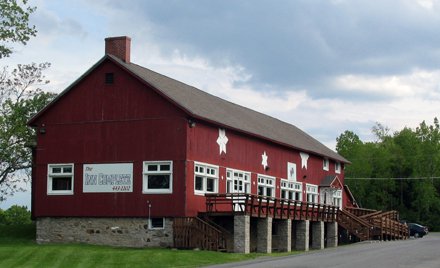 Page main body content
Renovated as Ski Lodge: 1947
Building Occupied as Ski Lodge: March 1948
Contractor: William Charles Kelly Construction Co.
Materials: Wood siding, hand-hewn timbers and stone
Dedication: March 1948
Speaker: Chancellor Tolley
Funding: Paid out of funds for a permanent student union accrued through deduction of $10 from each student's tuition over 2 year period
Location: Skytop Road, South Campus
Space - 1947: Snack bar, dormitory, first aid room, classroom, locker space for 1,350 pairs of skis, ski repair shop and waxing room, offices; outdoor facilities includes 1-1/2 acre skating rink, 30-meter ski jump, and 25 acres of ski slopes served by a 600-foot rope tow
Renovation of Inn Complete: 2002
Cost: $65,000
Space - 2010: Pub, restaurant, games, and entertainment/meeting space
Notes: Located on land once part of the 350-acre Nottingham Farm. In 1913, Mrs. Russell Sage donated $30,000 to build two barns and a cottage on what had become the University Farm. This building, originally measuring 100 ft. by 30 ft. with a small wing and outdoor shed, may have been built at that time. It had already been converted into a lodge for faculty social functions when it underwent further renovation into a ski lodge in 1947. In 1994, the Inn Complete moved from the Sky Barn into the Ski Lodge as a spot for graduate students, faculty and staff. Further renovations were completed for the Graduate Student Organization in 2002 to include a pub, restaurant, games, and entertainment/meeting space.
More Information: https://foodservices.syr.edu/retail-dining/inn-complete/ and https://gradorg.syr.edu/partners/