MacNaughton Hall
Special Collections Research Center
Page featured image content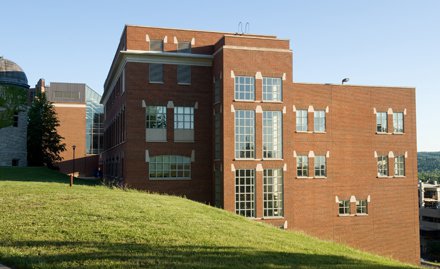 MacNaughton Hall, SU Photo & Imaging RS 8509
Page main body content
Groundbreaking: May 18, 1996
Architect: Ayers/Saint/Gross, Baltimore, MD
Contractor: Hueber-Breuer, Inc.
Building Occupied: April 1998
Dedicated: September 25, 1998
Dedication Speaker: US Senator Joseph R. Biden, Jr. (Delaware)
Named for: Winifred R. (Thomas) MacNaughton - wife of Donald MacNaughton, Class of 1939 and College of Law class of 1948, who was president and CEO of Prudential Insurance Co. of America; sons Donald and David also graduates of SU
Cost: $12.5 million
Funding: $1.5 million donated by McNaughton Family; University fundraising campaign
Location: Adjacent to White Hall
Space: 57,000 square feet
Notes: Built as a result of a 1990 survey that found that SU College of Law community lacked adequate student workspace, seminar rooms, and moot courtrooms. The new building allowed for smaller classrooms and upgraded technology.
In 2014 the College of Law moved to the new Dineen Hall and the building was repurposed for other University uses.