"Boxes, and envelopes, and photos, oh my!" Fred Meyer and The Wizard of Oz Fandom
Processing Fred Meyer's papers, co-founder The Wizard of Oz Club.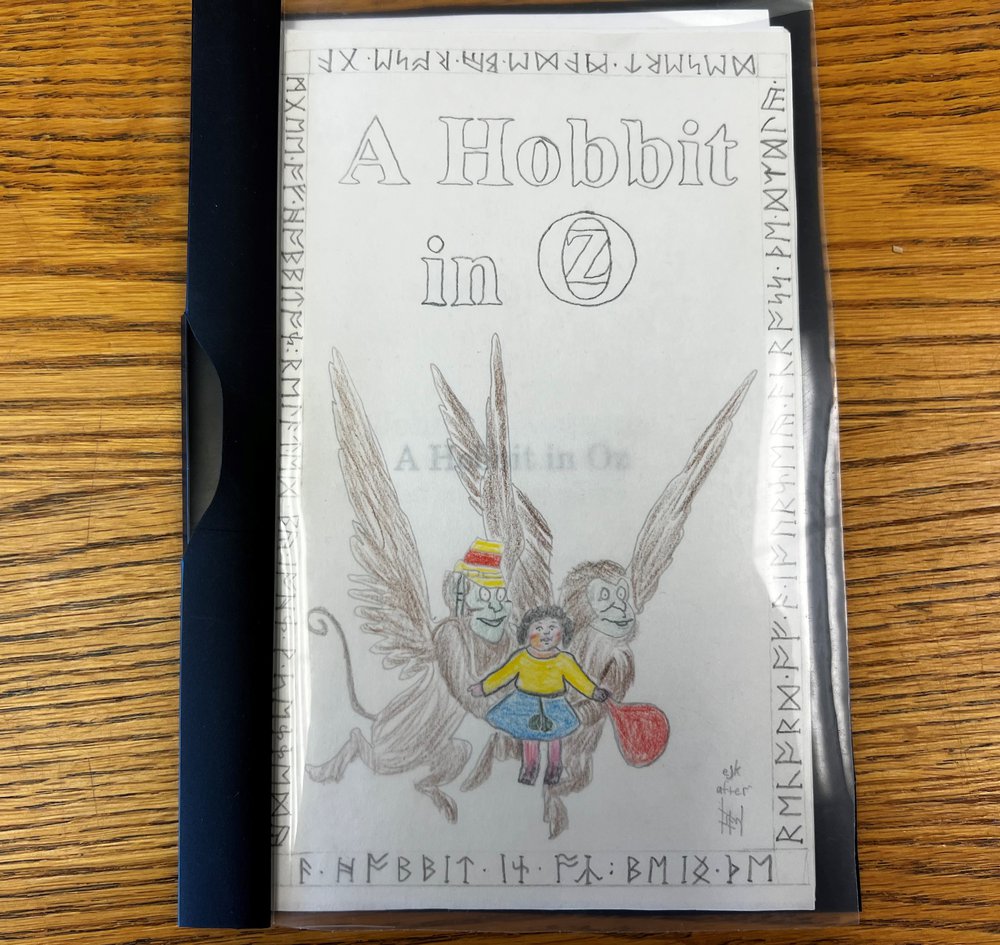 by Dane Flansburgh, Assistant Archivist, SCRC
In my previous post, I described what I do and the details of processing a collection. I mentioned that collections that arrive at SCRC with original order and clear organization are easy to arrange and describe, while collections without organization slow down the processing phase tremendously. The Fred Meyer Papers falls in the latter category.
Fred Meyer was born and raised in Illinois, and taught school in Escanaba, Michigan. When he was seven, he received The Wizard of Oz as a birthday gift and quickly became a fan of Oz and its author, L. Frank Baum. As a teenager he collected Oz books and memorabilia. As a young adult, Meyer connected with authors who wrote additional Oz books after Baum died, including Ruth Plumly Thompson and Jack Snow. Snow provided Meyer with a list of other Oz fans, and Meyer subsequently wrote to them. In 1957, Meyer co-founded The Wizard of Oz Club with 13-year-old Justin Schiller. One year later, the founding members renamed it the International Wizard of Oz Club (IWOC) to reflect growing international interest. Meyer was the secretary of the club from its founding until health issues forced him to step down in 1995, but he remained active in the club until his death in 2004.
Fred Meyer donated his papers, all pertaining to his time as secretary of the club, to the Special Collections Research Center (SCRC) in 2003. People often ask me why we have certain collections (in other words, why did donors choose our institution to store their materials). In Meyer's letter to SCRC which accompanied the donation, he only mentions that he would be "pleased if any of the materials I sent can be of use to the library," but I suspect Meyer donated his materials to SCRC because of our proximity to Baum's birthplace, Chittenango, New York, and our large collection of first printings of Baum's books.
In Meyer's letter to SCRC, he also apologized for the condition of the materials; he was in an assisted living facility and thus unable to sort or organize his papers. Consequently, when I opened the boxes last year (19 years after he donated them), I found a collection in disarray.
When presented with a collection that has no arrangement, the first thing I do is cry. When that is finished, I do a survey of the materials. As I mentioned in the previous post, I identify potential broad categories of material, or series (in this case, correspondence, fan material, International Wizard of Oz Club records, memorabilia, and printed material), and come up with a processing plan. Next, with a collection this size (30 boxes of unsorted material), I chose to do a "rough sort." A rough sort is an initial organization of materials at the series level. This typically requires a lot of space, and thankfully I have three tables to do my sorting. During this initial pass, I am only deciding what series various items belong in. If I am unsure, I place them in a box of unknowns with the hope that I will have further knowledge of the collection and creator towards the end of arrangement, and thus be able to make a more educated choice of their place in the collection.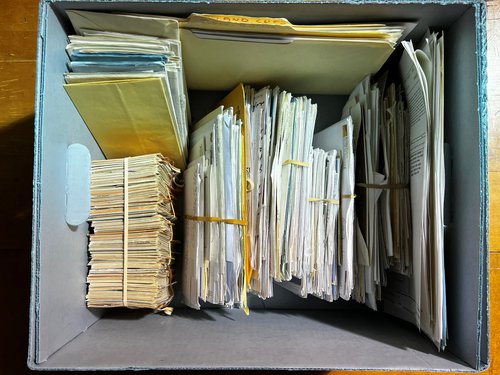 An unprocessed box of correspondence
After my rough sort, I work on each series, doing the next level of arrangement. Roughly three-quarters of the collection was correspondence, comprised of both incoming (items sent to Meyer by others) and outgoing (items Meyer sent to others). Typically, personal papers do not include outgoing correspondence, but Meyer kept copies of the letters that he sent to members. I started with the incoming correspondence. Meyer kept all incoming correspondence in its original envelopes. I began by sorting the envelopes by first letter of sender's last name (A, B, C) then I broke that down further by last name (so, pile A was sorted into Abbe, Able, Adams, etc.). Co-workers who walked through my space joked that I looked a mailman sorting out the mail for delivery. At times, I felt like it. As I sorted, I stumbled upon some recognizable names: the author Ray Bradbury, the 80s actor Bronson Pinchot (an Oz fan as well as club member), and several Baum family members. Once I had everything sorted, I removed the letters from the envelopes and unfolded them, kept the envelope with the correspondence if there was information on the envelope not present on the letter (such as date or name), tried my best not to read all of it (resisting this temptation is essential, since it can really slow down your processing – but oh, it is sometimes difficult!), and placed the letters into archival folders.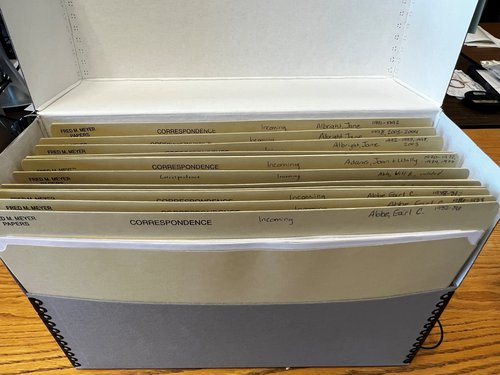 Processed box of Meyer correspondence
As for the outgoing correspondence, Meyer had kept his outgoing letters to club members in shoe boxes, arranged chronologically by year. I respected that original order, and merely placed the outgoing letters in folders in the same order I found it.
The fan material series I arranged by fan fiction and Oz-related articles. Meyer was heavily involved with the club's magazine, The Baum Bugle, so members would send him their writings with the hope that Meyer would publish them in the magazine. In this series I especially enjoyed the fan fiction: mostly typed manuscripts, but sometimes members would illustrate or hand bind their submissions. My personal favorite was titled A Hobbit in Oz, a hybrid of Wizard of Oz and J.R.R. Tolkien's Lord of the Rings, and included illustrations done by the author.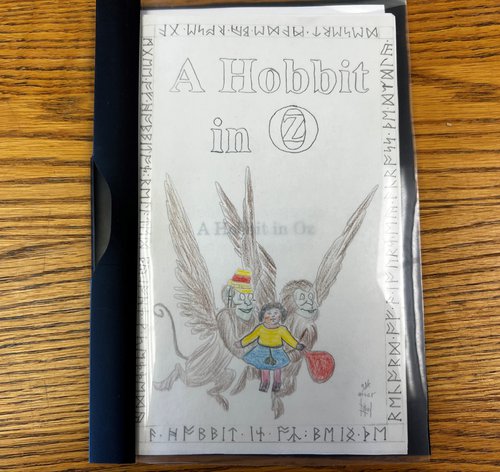 Wizard of Oz fan fiction, titled A Hobbit in Oz, by John W. Kennedy
The memorabilia series was a variety of Oz stuff, which I arranged into artwork, photographs, promotional material and theater programs. The collection also included club records which Meyer maintained when he was secretary. Club records included by-laws, convention material (IWOC held several different conventions across the United States, several which Meyer attended), notes and questionnaires.
Finally, I needed to deal with the items I placed into the "unknown" piles (my colleague, Vanessa, once described the materials that have no discernible place as the "weirds," which I think is an apt term). By this point, I had spent enough time with the collection to make an educated decision where to put the "weirds" in their proper series and folders. The last step, as always, was to box up the folders, then label and barcode the boxes.
Once the arrangement was finished, I was ready to describe the collection. I created a finding aid with a short bio of Meyer, a description of each series and a full inventory. After six months of processing, the collection became available for research in October 2022. It was a time-consuming project, but it sheds valuable light on Oz, Baum and fandom.
The finding aid for the collection can be found here: https://library.syracuse.edu/digital/guides/m/meyer_fm.htm